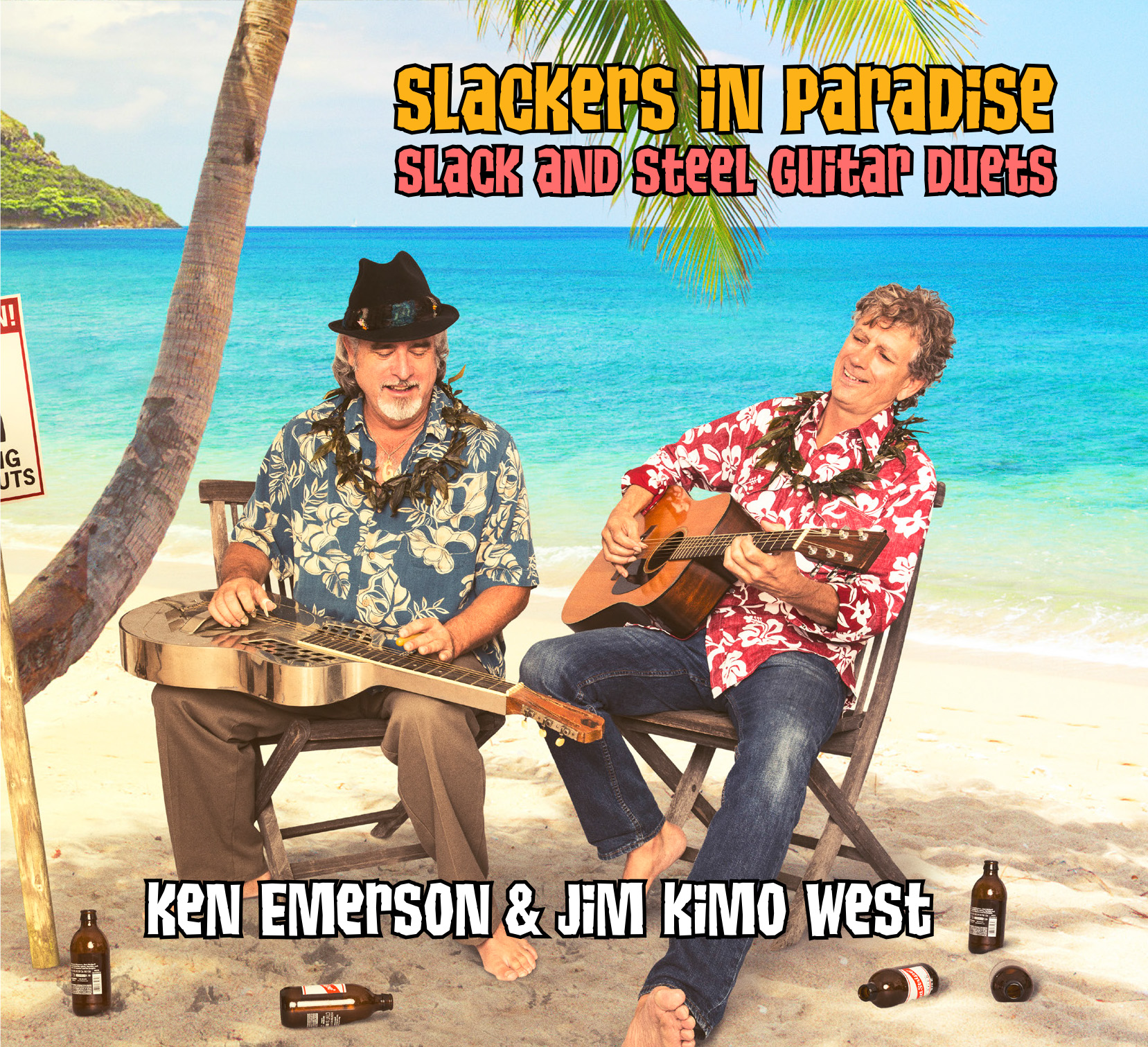 Download CD NOW
Listen on YouTube
Hawaiian Slack Key & Acoustic Steel Guitar
Emerson & West are Living Legends in the Guitar World
An all acoustic first-ever duet release from two masters of Hawaiian slack key & steel guitar, Jim Kimo West & Ken Emerson. The playlist conjures a treasure trove of island music... and beyond... from Hawaiian folk to ragtime, to blues, to Hawaiian jazz, and even a delightful you-just-gotta-listen-to-believe-it slack key polka with the appearance of Weird Al Yankovic playing his accordion. The artists collaboration on this album pushes it all to the next magical-musical-level no one could have ever imagined. An infectious, engaging, music must have!
There is something infectious and engaging about slack key guitar music. It's as if the ragtime of the 1920's found a new home on the Hawaiian Islands. The style, which has become a genre of its own, has been around for since the late 19th century, but it has not become a household word on the mainland.

The new album by Jim Kimo West and Ken Emerson goes a long way toward correcting this musical oversite with the deceptively named, Slackers in Paradise. The album is an all acoustic, instrumental gem that will either make you want to return to the days of ragtime or jump on the next jet to Maui. Jim Kimo West's day job is band leader for "Weird" Al Yankovic. The Weird one even makes an appearance on this album with his accordion on the song, "Slack Key Polk." Ken Emerson is guitar master who can play anything with strings and make magical music.

With mostly original songs laced with beautiful guitar phrasing, melodic exchanges between Emerson's resonator lap steel guitar and West's beautifully imaginative acoustic leads, the album carries its own island magic. There are also interludes into other musical domains that include ragtime, jazz, blues and rock. There are stringed intricacies alongside melodic simplicity that helps to create the one-of-a-kind island magic captured on these sessions.

While it all begins with a strong ragtime and traditional Slack Key feel on the first two songs, the title track, "Slackers in Paradise," and Ken Emerson's "Hapa Haole Hula Girl," the track that follows "Aokealoa," brings in a subtle modern jazz-folk feel that is hypnotic. The same experience holds true on "Me A 'u Lei," a haunting enduring melody.

Some of the fun in this collection of songs is in the good time that is being had by the musicians on tracks like "Slack Key Polka," which truly does justice to both genres, and West's own "Silent Movie Slack Key," which allows the listener to conjure up Charlie Chaplin and the Keystone Cops as Emerson, dazzles on slide guitar. They even take a slack-key poke at Jagger & Richards with the rock classic, "Ruby Tuesday.".

The proficiency and imagination of these sessions is something that needs to experienced first-hand. While the genre is inherently mellow, the talent it takes to bring this music to life is no small matter. This becomes clear with mindful listening. But, beware, a listen at home loud & long enough may result in taking the next flight out and a fond "Aloha" to the mainland

No Depression Magazine - The Journal of Roots Music - Terry Roland
Ken Emerson & Jim Kimo West Perform LIVE at
Beatrice Wood Center for the Arts in Ojai,California
Two of the finest North American guitarists—Ken Emerson and Jim Kimo West—joined forces for the 2016 CD release of Slackers In Paradise: Slack And Steel Guitar Duets. Early in 2016, Kimo released Guitar Stories: Slack Key & Beyond and in 2014 Ken Emerson released Sacred Slack & Steel Guitar. Each of those previous CDs were and are highly influential among fans of Hawaiian and Americana instrumental music so it's quite fulfilling to note that Slackers In Paradise is also bound to be quite a hit album among their fans. Slackers In Paradise fittingly includes 16 tracks of Hawaiian folk, blues, jazz and ragtime—all played with the finesse and expertise worthy of these modern day guitar masters. Both Ken and Kimo have busy lives so it's more than incredible that they had the time for an album of Hawaiian instrumental guitar music that is superbly relaxing. Highlights of Slackers are the many fine original instrumentals here but there's also a very cool cover of the Rolling Stones classic Ruby Tuesday that almost sounds like a Hawaiian meets Baroque instrumental of one of the most beloved pop songs of the late 1960s. With hardly a note out of place, Slackers In Paradise is an instrumental guitar classic befitting the sound and vision of these two superb musicians.
The opening selection on Slackers in Paradise: Slack and Steel Guitar Duets conjures up the bliss of kicking back on a hammock near surf-washed sands, caressed and refreshed by island trade winds. The recently-released CD by Jim Kimo West and Ken Emerson ushers you into an unhurried world free of traffic jams and family frenzy. With West on slack-key guitar and Emerson on acoustic steel guitar, the slow pieces are dreamy and tantalizing while even the fast-paced numbers evoke a time when life seemed simpler.

Slackers is the first recorded collaboration by the two string masters. West, who has spent much of his adulthood in rural Hana, Maui, is acclaimed on the mainland and in Hawai'i for his artful use of open-string tunings that are the heart of traditional slack key. Dubbed "Kimo" by Hawaiian friends, he has also created original tunings to enrich his interpretations and compositions. Playing at music festivals, concert venues, and coffeehouses, West is based in Los Angeles when not touring for his other major gig – lead guitarist for musical satirist Weird Al Yankovic. Kenton Robert Lopaka Emerson was born in Hawai'i but spent most of his childhood in the San Francisco area. There he learned to fingerpick 1960s folk and blues hits on the guitar and 'ukulele. When his family relocated to Hawai'i in 1968, he quickly tuned into the culture, studying Hawaiian language, listening to vintage recordings of Hawaiian music, and becoming a proficient slack key as well as steel guitar player. Emerson has played alongside such Hawaiian Cultural Renaissance luminaries as Gabby Pahinui, Raymond Kane, and Moe Keale. Currently he divides his time between Kaua'i and the Bay Area. Both Emerson and West are represented in Grammy-winning recordings of current slack key masters produced several years ago. Both have performed in the prestigious Southern California Slack Key Festival and are featured in the 2017 slack key bonanza.

In Slackers in Paradise, the two musicians principally combine slack key with acoustic steel guitar. However, both are multi-instrumentalists. Thus we hear West on baritone acoustic guitar, other acoustic guitars, 'ukulele, electric bass, and percussion. Emerson plays not only his National Tricone acoustic steel guitar, but also other acoustic guitars, soprano 'ukulele, and dobra. Of the sixteen selections on the disk, six were composed by Emerson and five by West. In Aokealoa (Cut 3), Hamakua Hale (Cut 14), and Mahia (Cut 15), Emerson paints moods with lush, arpeggiated sequences rather than unified melodies. Pentatonic, blues-infused, and jazz-influenced passages reflect a thoughtful, exploratory style. However, in the Wairoa Ukulele Rag (Cut 11), he spins a captivating melody, deftly nailing the genre. Me A'u Lei also shows a more traditional tonal structure and leaves ample room for stellar steel guitar embellishments. Ka Nani O Serra de Estrella demonstrates artful use of Spanish melodic and rhythmic idioms. In contrast, West's compositions all have strong melodic structures with tunes and variations that tell stories in music. Slackers in Paradise (Cut 1) and Mango Season (Cut 6) suggest the tropical fantasy of slowing down to smell the plumeria. The rollicking Slack Key Polka and tongue-in-cheek Silent Movie Slack Key with its melodramatic recurring diminished chord progressions are particularly entertaining. His Nu'uanu Waltz evokes to me the aching romanticism of the final years of Hawaiian royalty that so emulated elite European culture. Four pieces by other composers -- Hawaiian, Hapa Haole (having an Anglo-American elements), and rock (Ruby Tuesday by Jagger/Richards) – show the pair's ability to create fresh interpretations in diverse genres.
Folk Works - Audrey Coleman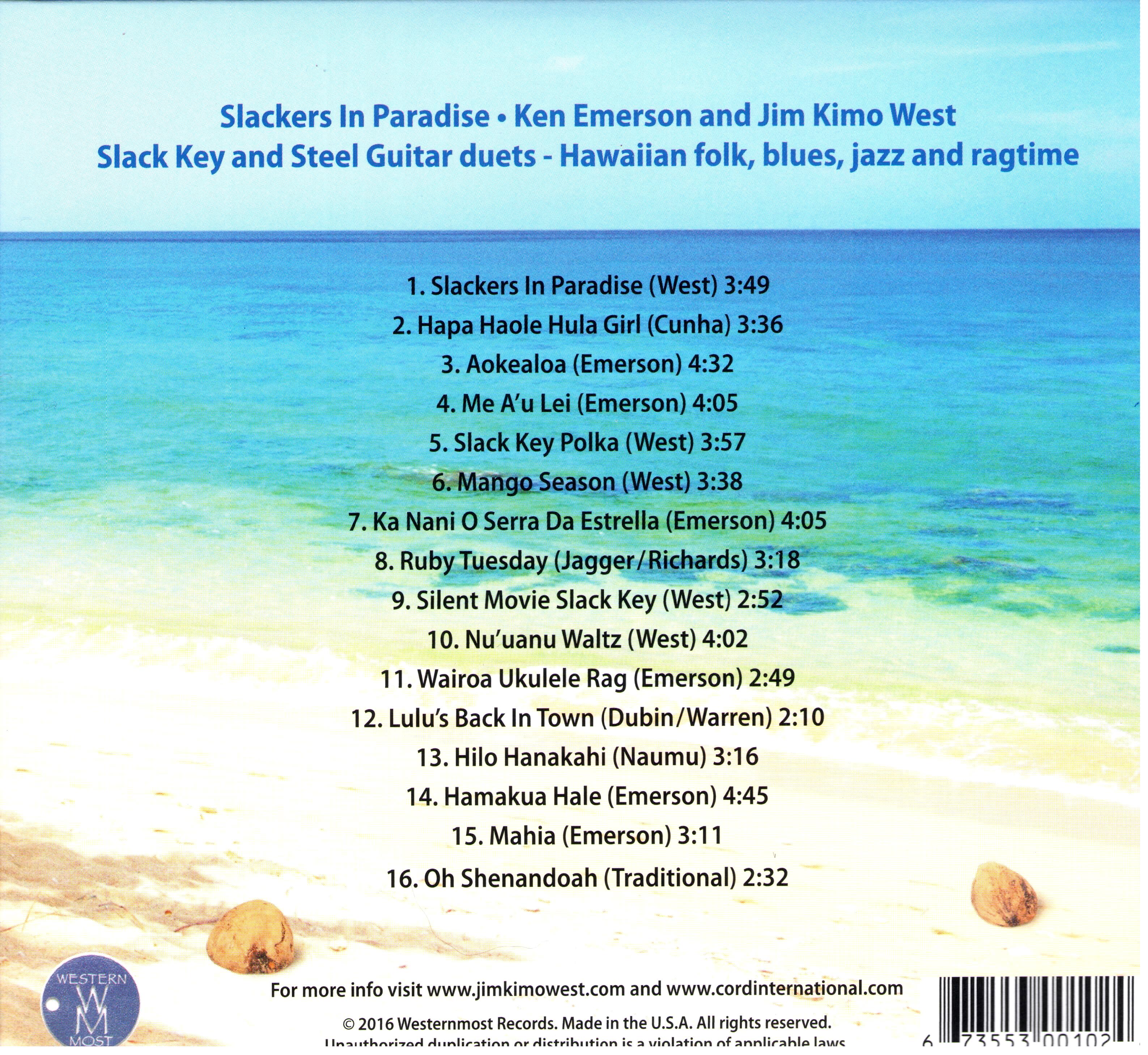 Ken Emerson and Jim Kimo West - Slackers in Paradise: Slack and Steel Guitar Duets WMR 3009 -02