In the two centuries since Hawaiians first received contact from the outside world, Hawaii's music has evolved as a reflection of each new non-Hawaiian musical trend to reach her Shores. At the same time, traditional Hawaiian music has been lovingly passed on from generation to generation, preserving Hawaii's rich cultural heritage.

Early growth of Hawaiian music's world-wide popularity was built through the dedication of its musicians, singers, and dancers. The recording, radio, movie, television, and visitor industries all embraced the music. Both visitors to Hawaii and her residents alike revered the brightest stars of the Hawaiian entertainment scene. None of those stars has ever shown brighter than that of "Hawaii's Song Bird", Lena Machado. Her lyric soprano voice delighted millions of people for almost half a century.

Lena Kaulumau Waialeale was born in Pauoa, a district of Honolulu, on October 16, 1903. Her parents, Louise Poepoe Waialeale, a Hawaiian musician, and Robert Waialeale, chose to hanai Lena at birth. (Hanai is the Hawaiian custom of giving a child to foster parents who will raise, nourish, and provide an advantageous atmosphere for the child.) Lena's hanai parents were Dr. Loo Pan, a pharmacist at the Alexander Young Hotel, and Mary Davis Loo Pan, a lei seller at the docks of Honolulu Harbor.

Lena was raised in a blending of her hanai parents' Hawaiian and Chinese cultures. She spoke fluent Hawaiian and Chinese. Their home sat on Frog Lane, at Nuuanu and School Streets, among a row of houses on a narrow unpaved lane, surrounded by taro fields. The young city of Honolulu lay just on the other side of the taro fields, clustered around Honolulu harbor, while lush Nuuanu nestled behind the homes.

As a young child, Lena's first attempt at singing was to imitate the haunting funeral lament chant (mele kenikau), with prolonged phrases chanted in one breath, and embellishments at the end of each phrase. Mary Davis was appalled by the practice, and forbade her young daughter to continue. Later, an adolescent Lena imitated the soaring opera singers she had heard. When Mary Davis again admonished her for singing, Lena found refuge at nearby Waikahalulu Falls on Nuuanu Stream. The sound of the falls would hide her singing practice from her mother. There she could also play her homemade ukulele, made from a roofing shingle and some rubber bands. Lena had several of these contraptions taken away by her mother, but kept building replacements to plunk and sing along with.

Lena attended Kauluwela Elementary School, at 468 North School Street. However, her first public appearance was as a Girl Scout, in a program at an old Hawaiian Church in Waialua, on the other side of the island of Oahu. When she was 10 years old, Lena entered an amateur singing contest on the stage of the Palama Theatre at King Street and Desha Lane. Lena sang, "Let Me Call You Sweetheart", and won. Mary Davis was not amused, and strictly forbid Lena from singing again. For the rest of her youth, Lena would have to be content with the title of "Youngest Lei Seller" on Boat Days when the ocean liners would dock at Honolulu Harbor.

Hawaii's first radio station, KGU, operated by the Honolulu Advertiser newspaper, signed on the air on May 11, 1922 from a downtown Honolulu studio. Soon after, Marion A. Mulroney, head of KGU, walked by a large mango tree on the grounds of the Army & Navy YMCA at 250 South Hotel Street. He stopped dead in his tracks when he heard Lena singing, as the Sacred Hearts Convent student happily gathered mangos high up in the tree. He invited the teenager to come to the radio station and sing over the air. She did, and the resulting telephone response landed Lena a professional contract with the radio station. For the rest of her life, Lena would be a Hawaiian entertainer.

First billed as the "Hawaiian Nightingale", because she was discovered singing like a bird in a tree, Lena soon left the island for the first time as a member of the William F. Aldrich Troupe, a mainland-based group of touring Hawaiian musicians. While there, she moved over to the larger Balaban-Katz organization so she could polish her stage skills on the road for an entire year.

Upon her return, Lena's popularity grew through her radio and live performances. In 1923 Lena rode in her first parade as a celebrity in an open car. She was introduced to Luciano K. Machado, a policeman. Luciano was the City and County of Honolulu's "Most Popular Employee of the Year". The two fell in love and were married in 1925. Luciano had two daughters from his first marriage, named Catherine and Rose. (Although they would never have any offspring of their own, the couple would eventually hanai half a dozen children, including Piolani Motta.)

The increasingly popular Lena Machado debuted as a featured vocalist with the Royal Hawaiian Band, under the direction of Bandmaster Mekia Kealakai in 1925. (She would continue to be featured by the band, when she was in Hawaii, for almost 30 years. As the bands vocalist, she greeted hundreds of ships on Boat Day. In addition to Kealakai, Lena also sang for John Amasiu, Charles E. King, Frank J. Vierra, and Domenico Moro.)

Lena toured both the Neighbor Islands and the Mainland with her own troupe, consisting of Henry Paul on guitar, Steppy DeRego on guitar, Tommy Castro on acoustic steel guitar, husband Luciano Machado on bass alto guitar, and his brother Dan Machado on ukulele. In addition to singing lead, Lena was most comfortable when she also strummed her ukulele.

Since the 1800's, the Brunswick-Balke-Collender Company had been the world's largest billiard equipment company. The Muskegon, Michigan company now entered the music business. Brunswick records first appeared in stores in January, 1920. The 10-inch popular records sold for 75 cents. In 1926, Brunswick produced an acoustic phonograph for playing the new electrically recorded 78-rpm records. An office was established in Honolulu at 931 Fort Street and in the spring of 1927, Johnny Noble, Hawaii's "Jazz King", was contracted as the talent scout for the visiting label. In November of 1927, a recording machine was installed in a suite at the Alexander Young Hotel, at King and Bishop Streets. Local electronics genius Y.O. Kang was allowed to patent the diaphragm enhancement he created, which fixed a problem encountered by the two remote recording engineers sent from the mainland. Johnny Noble had purchased the Royal Hawaiian Collection of Songs from the Hawaii News Company earlier, so a fine catalog of Hawaiian songs were available. Johnny then recruited some of the brightest young stars in Hawaii's music scene for the historic Brunswick sessions.

Twenty-four year old Lena Machado was one of the very first stars to be recorded on opening day of the project, which eventually produced a collection of 110 sides on 55 discs. She was also contracted to promote the official release of the records with a concert in front of Bergstrom Music Company at 1140 Fort Street, at the corner of Pauahi, in downtown Honolulu. While she performed with Luciano, Dan, Henry, and Rose Machado, a banner overhead read, "Brunswick Honolulu Recorded Hawaiian Records on Sale Now!". (Selection # 1 of this compilation was recorded in that session.)

Her song writing blossomed, and in 1930 she began to copyright her body of work which would continue for most of her life. Her popularity continued to grow with her performances in Honolulu, and her tours of both the Neighbor Islands and the Mainland.

While in Los Angeles in 1935, she took the opportunity to record in the Hollywood studios of Freeman Lang, with the musicians she was then performing with at an area club. The group featured Sol Hoopii on electric steel guitar, George Piltz on ukulele, and Harry Baty on guitar. Lena, 32, boldly released these recordings of some of her latest compositions on her very own record label. Her photo is captioned, "Composed and sung by Hawaii's Song Bird, Aloha Nui, Lena Machado". ( After being called "Hawaii's Nightingale", "The Golden Voice" and "The Thrush of the Territory" Lena was now simply, "Hawaii's Song Bird", the nickname she would carry forever more.) (Selections #2 -5 of this compilation were recorded in that session.)

Lena was asked to join the Hawaii delegation of musicians at the 1938 grand opening of the "Golden Gate International Exposition" on Treasure Island in San Francisco Bay. In addition to Lena on lead vocals and ukulele, the group featured Sol K. Bright on steel guitar, Joe Kealoha on guitar, George Mansfield on ukulele, and Billy Nichols on standup bass. After two years of national media exposure on the World's Fair stage, she returned to Hawaii, only to be summoned back by popular demand to be featured at the gala closing ceremonies in November of 1941.

Admiral Wilson of the U. S. Navy then advised Lena that "something was brewing in the Pacific", and that travel home to Hawaii might soon prove difficult, so she rushed back home. The December 7, 1941 bombing of Pearl Harbor by the Japanese Navy prompted Lena to begin performing in shows for the many military and defense workers on Oahu and the Neighbor Islands. The GI's of the 413's Company D chose her as their favorite singer and pin-up girl, and even paraded in Lena's honor.

In 1945, the Lena Machado radio show debuted on KGU, the station of her first triumph. Entrepreneur and ventriloquist "Howdy" Reynolds, whose most famous dummy, "G-Man Joe", was a local favorite, sponsored the program through his chicken restaurant on Kalakaua Avenue. Sam Kaeo served as her arranger and steel guitarist, along with Roy AhMook Sang, Lani AhMook Sang, George Pokini, and Sonny Nichols. Whit Waterman was the show's announcer.

From 1948 to 1950, Lena performed at the Club Pago Pago, at 2454 South Beretania Street. Her band included Gabby Pahinui on steel guitar, George Delanux on guitar, and George Pokini on standup bass. The show featured four girls who were excellent hula dancers, and the show was smooth, lively, sparkled with comedy, and all well rehearsed.

During this period, she was invited to make two sets of recordings for Columbia Records in Hollywood, California. These were the first recordings she had made since Decca Records had paired her with Dick McIntyre and his Harmony Hawaiians in 1940, so she seized the opportunity to record several of her newer compositions. Her daring arrangements were influenced by the variety of musical influences she had first encountered at the San Francisco World's Fair.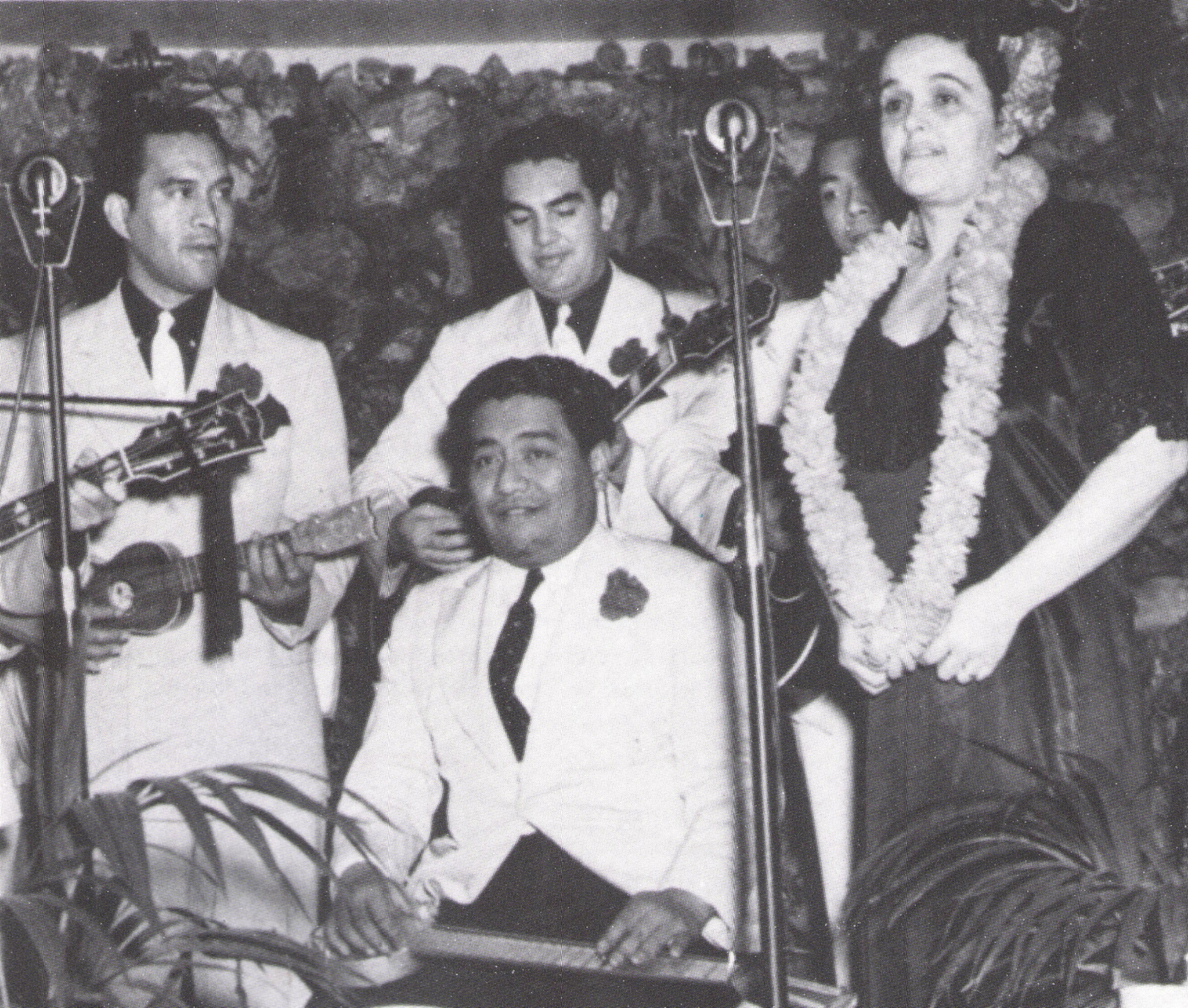 Lena was the featured entertainer at the Niumalu Hotel, at 2005 Kalia Road, during 1950 and 1951. The rest of the group consisted of Billy Hew Len on steel guitar, Prince Aila on standup bass, Kalakaua Aylett on guitar, and Little Joe Kekauoha on ukulele. All four contributed background vocals to Lena's riveting solos, while Little Joe added some comedy hula.

Lena then took off to the Mainland for a massive tour, which included performances in Chicago, New York, Atlantic City, Miami, and Hollywood. She became one of the earliest Hawaiian television stars, making appearances on Charles E. King's TV show in New York, and Harry Owens' TV show in Hollywood. However, a tragic fall in 1952 left her with a permanent limp, and required extensive rehabilitation at home in Hawaii.

On June 18, 1957, Luciano K. Machado, Lena's husband of thirty years, died at their home in Waimanalo, Oahu. He was 58 years old. His daughter, Catherine, 39, passed on just two months later. Lena was devastated.
Lena's friends arranged to bring her and a widower, Samuel Kaiwi, together. The friendship eventually resulted in marriage, and a renewed Lena began planning her final recording project. She, assembled some of her most revered compositions, and overhauled all of the arrangements. Finally, in early 1962, she was ready.

Accompanied by Billy Hew Len on steel guitar, Cy Ludington on guitar, and Benny Saks (Sakamaki) on piano, vibes, and additional arrangements, Lena made her first stereo recording. Engineer/Owner Herb Ono ran the 2 channel Ampex tape machine at his Sounds of Hawaii studio, at 1084 Young Street. Lena Machado, 59, released and copyrighted her album on her own "Song Bird Records" on December 7, 1962, and she acquired the first agent of her career Accadia Music Co. of Beverly Hills, California. (Selections #6 - 17 of this compilation were recorded at that session.)

The album became an instant classic, and Lena's performances continued, highlighted by a Television/Stage appearance in Tokyo, Japan.

But tragedy again struck in October, 1964, while driving to their new home near Koloa, Kauai, Lena was seriously injured in an auto accident. She was blinded in her left eye, and suffered paralysis of her left hand. Extensive chest and facial injuries required complex reconstructive surgery.

Five years later, in October, 1969, Lena Machado, "Hawaii's Songbird", and John Kameaaloha Almeida, "The Dean of Hawaiian Music", were honored as two of Hawaii's living legends. They were applauded by their fans as they rode together as Grand Marshall's of the 1969 Aloha Week Floral Parade.

Lena returned to performing in 1970 at the Ilikai Hotel, joining Pauline Kekahuna and her Hauoli Girls, with Pauline on guitar, Pua Rogers on bass, and Lena Motto on ukulele. In 1971, she moved to Kona on the Big Island of Hawaii, and began to perform at the King Kamehameha Hotel.

However, a heart attack weakened her, and forced her to return to Honolulu. After a stay at Queen's Hospital, Lena attempted to recuperate her health once more. But in late 1973, she entered Hale Nani Rehabilitation and Nursing Center at 1677 Pensacola Street. On January 22, 1974, at 2:15 AM, Lena Machado, Hawaii's Song Bird, passed away at age 70. She was buried a few steps away from Hale Nani, among the graves of her family, at Makiki Cemetery.

"Hawaii's Song Bird" was gone, but not forgotten. She had never taken a singing lesson in her life, but Prince and Princess Kuhio, Princess Kawananakoa, President Franklin Delano Roosevelt, Madame Galli-Curci, Bing Crosby, Gene Autry, and Babe Ruth were all among her fans. Her more than 60 compositions, innovative arrangements, and incomparable vocals remain as treasures for succeeding generations. Her voice embodied the spell of the islands. Hana Ola Records now shares with you an overview of Lena Machado's lifetime achievements, including, but not limited to, her very first, and very last recordings. This seventeen selection historical anthology accurately portrays the life of a true "Hawaiian Legend", Lena Machado.

©Cord International

| | |
| --- | --- |
| | |
| | |
NA LEI O HAWAII
Na Lei O Hawaii was composed by Charles E. King in 1915. The Song of the Islands makes reference to each island and its flower icon. Oahu's 'ilima, Kauai's mokihana, Maui's roselani, and Hawaii's lehua are all saluted. Lena Machado, soprano, is accompanied by a Glee Club (her husband's family), featuring an acoustic steel guitar. Lena projects the same presence she commanded as a featured vocalist for the Royal Hawaiian Band. This Brunswick 78-rpm is the first ever commercial recording made by Lena Machado. It is the only selection in this entire collection that was not written by Hawaii's Songbird.
KAMALANI O KEAUKAHA
While on a performing tour of the Big Island of Hawaii, Lena had been deeply touched by the generous hospitality of the homestead community of Keaukaha. They presented her with a lei of sweet-scented Keaukaha carnations entwined with maile. Lena copyrighted her composition Kamalani O Keaukaha on January 29, 1934. Sometimes confused with another composition entitled Keaukaha by Albert Nahale'a, Lena Machado made this recording of her song for Keaukaha in 1935 at the Freeman Lang Studios in Hollywood. She is backed by Sol Hoopii on steel guitar, Harry Baty on guitar, and George Piltz on ukulele.
HO'ONANEA, 1935
There is quite a bit of kaona, or hidden meaning, in Ho'onanea, copyrighted by Lena on June 26, 1933, and included in the 1935 recording session. A special moment of a couple's passion under a moonlit sky is captured forever between the lines.
MAI LOHILOHI MAI OE, 1935
Lena included another compromising love song in the Hollywood studio recording session. Mai Lohilohi Mai Oe copyrighted on July 20, 1935, tells of a lover who extends an invitation with an intriguing promise of many pleasures and the plea, don't hesitate - come!
KAUOHA MAI - KEYHOLE HULA, 1935
Kauoha Mai tells of the heartache of being invited over to a lover's home only to be locked out. A peek through the keyhole reveals that another had now become the object of the sought after affection. The Keyhole Hula as Kauoha Mai is also known was copyrighted on January 29, 1934. This 1935 effort is Lena's first ever recording of what many now consider to be her signature song.
E KU'U BABY HOT CHA CHA
Lena was inspired to write E Ku'u Baby Hot Cha Cha by the Latin rhythms she heard while touring the mainland. She was delighted by the infectious beat and the colorful costumes of the Xavier Cugat Orchestra so much that she created her own Hawaiian rumba, copyrighting it on July 20, 1935. This snazzy number kicked off her 1962 stereo long playing album which featured Billy Hew Len on steel guitar, Cy Ludington on guitar, and arranger Benny Saks (Sakamaki) on piano and vibes.
HOLO WA'A PA
As the Waikiki Beachboys paddled their canoe through the surf, the canoe carried them high up the waves and then down into calmer waters. Lena's Holo Wa'a Pa copyrighted on June 12, 1944, tells that tale... or does it? Some think that the kaona (hidden meaning) would suggest another type of encounter. Billy Hew Len's electric Hawaiian steel guitar performs a musical duet with Lena.
EI NEI
Lena wrote the tender Ei Nei for her husband Luciano K. Machado (May 9, 1899 - June 18, 1957). Unfortunately touring would keep her away from home for extended periods. Copyrighted on August 9, 1948 this is a call to her loved one. She whispers Oh Darling recalling his voice and the soft endearments they shared with each other.
HOLAU
Holau Market located at 930 Kekaulike Street served up all of the ono Hawaiian delicacies during the 1940s. Holau, copyrighted on November 3, 1941, Lena composed for her friend who opened the market and for all of the people who came in to make their selections. Billy Hew Len's steel guitar frolics with Benny Sak's piano.
KU'U WA LI'I LI'I - MY CHILDHOOD DAYS
On her 16th birthday Lena received the grown-up outfit she had patiently waited for as a reward for behaving. The year was 1919. She got all made up in her new long dress, petticoats, corset, gloves, hat, and high-heeled shoes and boarded the trolley for a triumphant strut at the Fair of St. Louis College on College Walk and Kukui Street. But alas, the tight corset wouldn't allow her to breath if she sat, and the trolley conductor insisted that she sit down. Embarrassed, Lena fibbed that she wanted to get off at the next stop and then had to walk all the way there and back from the Fair. When her mother saw the disheveled Lena wobbling up to their house carrying most of her new grown-up outfit in her arms she said, "Hupe kole keiki wahine, look at you. And you were trying to be a big lady when you're just a child." Lena copyrighted Ku'u Wa Li'i Li'i (My Childhood Days) on June 12, 1944, but many recognize it by the title Hupe Kole describing growing up from a runny-nose child into a beautiful woman.
HO'ONANEA, 1962
Benny Saks worked his magic in this arrangement of Ho'onanea weaving his plaintive piano work within the velvet touch of steel guitarist Billy Hew Len. Lena holds her trademark high notes for all eternity on this second taste of her classic Hawaiian ode to love.
MAI LOHILOHI MAI OE, 1962
For this arrangement of Mai Lohilohi Mai Oe Benny Saks displays his handiwork on the vibes in tandem once again with the extraordinary steel guitarist Billy Hew Len. It is evident that Lena tailored the Hawaiian language lyric especially for her own exceptional voice and her unique vocal control.
MOANI KE ALA ONA PUA MAKAHIKINA
Lena composed Moani Ke Ala Ona Pua Makahikina for Sally Wood Naluai - a renowned kumu hula, likening her to a beautiful flower that shines in the sunlight. She copyrighted the song on February 11, 1946. Lena demonstrates her unique skill of incorporating chant with mele embellishing her song with the distinctly Hawaiian vocal ornaments of glides, vibrato, glottal stops, and voice breaks.
KAUOHA MAI - KEYHOLE HULA, 1962
This time around Lena shares some of the sad story of Kauoha Mai or Keyhole Hula in English: The disappointment is heard in the pounding on the door and the unanswered pleas. A female vocal trio attempts to offer comfort to the broken heart.
U'ILANI - HEAVENLY BEAUTY
Lena wrote U'ilani (Heavenly Beauty) for Donni U'ilani Sheather, the baby daughter of William and Sophia Sheather. Copyrighted on May 14, 1947 Lena wrapped the child's angelic innocence in the musical caress of her sweet Hawaiian lullaby.
KAULANA O HILO HANAKAHI
Copyrighted on June 11, 1946, Kaulana O Hilo Hanakahi quickly became one of the many Machado hits in Hawaii. Soon after she recorded it first on Columbia Records featuring its trademark climbing vocals, many other Hawaiian groups followed suit. The Kalima Brothers version [HOCD27000 - 1000 Pounds of Melody] also became quite popular. Lena sings of the beauty of the Crescent City Hilo (Famous is Hilo For Her Scenic Beauty) and the majesty of Mauna Kea both on the Big Island of Hawaii, accompanied up the musical scale by her female vocal trio the Liliko'i Sisters.
MOM
During World War II Lena would have visits from mothers who had sons serving in the Armed Forces. The same boys who had previously ignored their mothers advice and always misbehaved now sent their mothers such endearing letters of love and devotion. Lena copyrighted Mom on June 12, 1944. As Lena's hanai mother Mary Davis Loo Pan (November 1, 1872 - November 12,1944) would soon pass on, the song's lyrics were perhaps even more meaningful.
Lena Machado was honored when the inclusion of this track - a touching rendition of her tender classic Mom - was featured in the film score and soundtrack of The Descendants, starring George Clooney: the first mainstream American movie scored exclusively with Hawaiian music created by acknowledged masters of the genre - a crucial component serving as an eye-opening introduction to some of Hawaiian music's greatest and most essential artists. Lena Machado is one of those greatest and most essential artists.
©Cord International