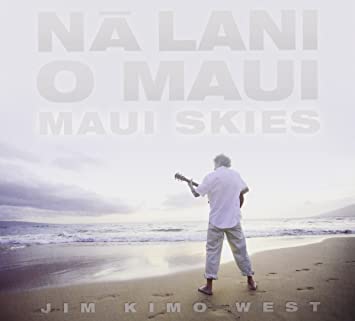 Download CD NOW
Listen on YouTube
2012 Slack Key Album of the Year Nominee
Spellbinding Beautiful Original Compositions
Nominated for Slack Key Album of the Year Award by the Hawaii Academy of Recording Arts (Na Hoku Hanohano Award is known as The Hawaiian Grammy). The skies of Maui are ever-changing, dramatic and full of surprise, just like life itself. This collection of traditional and contemporary Hawaiian slack key guitar instrumentals speaks of the warm trade winds, sparkling blue oceans and the peaceful sunsets that are a part of everyday life in Hawaii. Even older than the blues, Hawaiian slack key has its roots in 1830's Hawaii, when guitars were first brought by Spanish vaqueros who came over to teach Hawaiians about managing cattle. Jim Kimo West has been playing and recording slack key guitar for over twenty years.
The latest album from guitarist Jim Kimo West, Na Lani O Maui-Maui Skies, is a love letter. However, West's pen is his guitar, and they speak a language that only the imagination is able to interpret. An immaculate collection of slack-key guitar instrumentals, Na Lani O Maui- Maui Skies works not only as a homage to its country of origin but as a breathtaking introduction to the genre. The fingerstyle technique of slack-key guitar has its roots in Hawaii, shortly after Mexican cowboys offered guitars to the natives and taught them how to the play the instrument. Once they departed, the Hawaiians began to fashion their own way with it. West captures both the history of the genre as well as his own mesmerizing take on it, effortlessly blending covers of timeless classics with his spellbindingly beautiful originals.

On the opening cut, "Two Paniolos," West weaves a web of crystalline prettiness; his sparkling, calming acoustic guitars create feelings of tranquility as well as transcendent bliss. West paints images of tropical paradise so vividly that one can almost feel the hot sand and the blistering kiss of the summer sun. "Holoholo Hana Bay" unveils layers of crisply played guitars; they build up into a sweltering jam. The dreamy atmospherics of "Hi'ilawe" is awash with intoxicating romanticism.

Best known for his work with "Weird Al" Yankovic, West is a highly impressive talent on his own. His mastery of slack-key guitar, as prominently displayed on this record, is not just fueled by technical precision but also depth of emotion. For example, "Maui Skies" is poetry set to music; it is bursting alive with the constant evolution and vibrant colors of nature, its soothing textures caressing the heart and lighting fire to the soul.

Jazz Corner - February 2012
As the longtime guitarist for Grammy-winning satirist "Weird Al" Yankovic, Jim Kimo West has heard a lifetime of good-natured laughter. However, West's own discography is light years apart from Yankovic's inventive and often hilarious pop-music parodies. In fact, West's latest solo record, Na Lani O Maui-Maui Skies, is even miles away from the mainland as he pays homage to the awe-inspiring beauty of Hawaii. But West's decision to beam the spotlight on Hawaii is not for superficial reasons; this isn't some tourist's postcard although his surface affection for the tropical utopia is clearly evident.

There is a deeper context here, one that is rooted in West's musical style of choice. West is a lifelong student of the finger-style technique of slack-key guitar, which actually originated in Hawaii. In the late 19th century, Mexican cowboys left guitars to Hawaiian natives along with some pieces of instruction; once they were gone, those rookie guitarists began experimenting with the instrument, creating a new genre of music in the process. West's knowledge of slack-key guitar is vividly expressed in both his keen performances of covers as well as his own dynamite songwriting. West's version of Sonny Cunha's Hula Blues" is what you'd expect a Hawaiian-themed track to sound like, brimming with a sunny, playful groove. Maui Skies," a West original, is as evocative as its title promises; the liquid flow of West's guitar achieves that perfect balance of caressing the ears while awakening the mind to pictures of blankets of clouds hovering over a bed of blue ocean. That West is able to produce music as sublime and picturesque as this while contributing to Yankovic's funny send-ups reveals a versatile and impeccable artist who awaits discovery.
All That Jazz - December 2012
Decades of cleverly witty parodies and hilarious Grammy- winning recordings grace the résumé of Jim Kimo West, the long-time guitarist for Weird Al Yankovic. However, on his own West opts for a different approach, experimenting with slack-key guitar instrumentals that help define Hawaiian folk music. But any sampling of West's latest adventure into the genre, Na Lani O Maui-Maui Skies, instantly crushes any stereotypes the unenlightened may have about that musical style. This is a record that pays homage to Hawaii without, for the most part, sounding at all like typical Hawaiian music.
No Depression Magazine 2012
With guitarist for "Weird Al" Yankovic on his resume, it might surprise many that Jim Kimo West has released five CDs of slack key music. His most recent release, Nalani O Maui (Maui Skies), includes eight original compositions and a variety of other tunes, many traditional arrangements among them. Opening tracks, "Lilikoi Pie" and "All Jam Up", instantly and seductively slide the listener into the realm of Pacific breezes without overtly leaning on the traditional notion of the Hawaiian slack key style. West's melodic, relaxing and gentle fretwork is remarkably his own, yet retains the best of the slack key style. On Nalani O Maui, West combines this style with the vibe and techniques of contemporary finger stylists and produces an enriching and enjoyable auditory experience.
Minor 7th - James Filkins 2011
Transcendent Bliss - FIVE STARS
Hawaiian finger-style slack-key guitar has been growing on me and today I started my morning commute with this CD. What a beautiful way to celebrate the day. After work the CD helped me slip into the slack-key world and relax as the rain fell on our valley. The only way this could have been better would be if I was sitting on a Lanai on Kauai and watching the waves roll in. What a great addition to my eclectic collection. Tranquility as well as transcendent bliss rolled around today with this CD.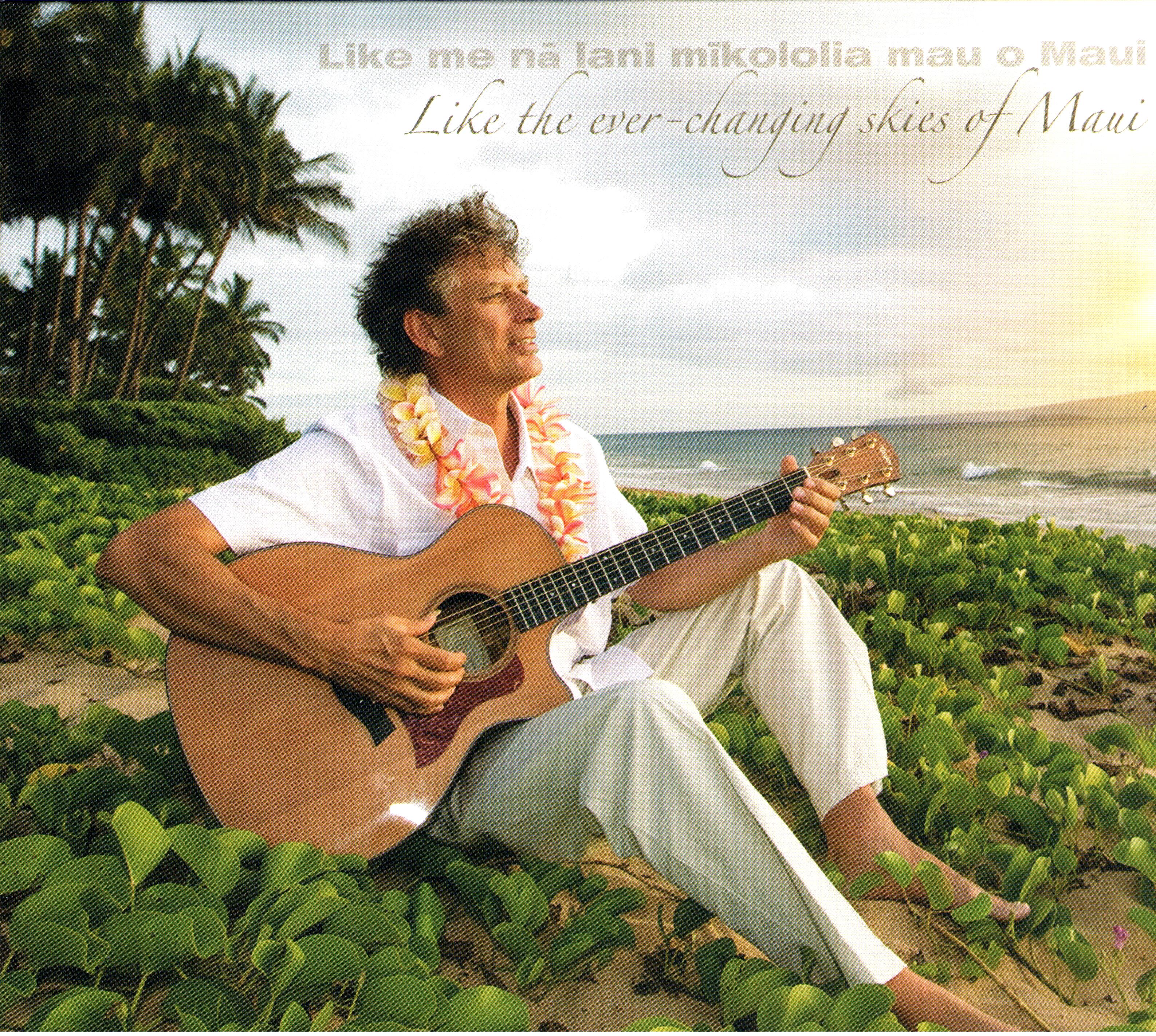 Jim Kimo West is recognized as one of the world's top slack key guitarists bringing his own unique musical perspective to this great acoustic guitar tradition. Besides his solo slack key career, West is best known as the long-time guitarist on CDs and tours for the world's most famous musical satirist, "Weird Al" Yankovic whose recent CD, Mandatory Fun debuted at #1 on the Billboard charts and won the Grammy for Best Comedy Recording. West is also a prolific composer with a generous output of new, exciting slack key guitar originals. In addition he writes and produces music for too numerous to mention feature films and television shows.
A Canadian native, West grew up in Florida and was playing professionally in various rock bands by age 16. A decade later he landed in Los Angeles and began working with "Weird Al" Yankovic. West can be heard on and seen in all of Yankovic's iconoclastic videos, albums, and concerts playing guitar.
In 1985 to decompress after a long summer Weird Al tour, Jim made his first trip to Hana, Maui. He fell in love with the culture and the physical landscape of Hawaii. As the sounds of Gabby Pahinui, the Sons of Hawaii, Sonny Chillingworth, The Sunday Manoa, and others played on the turntable, Jim jammed along for fun and relaxation. Already a long-time devotee of open tunings, he was immediately drawn to the gentle rhythms of the slack key guitar and soon began writing his own songs. West didn't concentrate on learning the standard riffs and songs but instead developed his own unique slack key vocabulary which now defines his very unique approach to this great tradition.
While always retaining the heartfelt essence of traditional slack key, Jim Kimo West brings his own musical heritage to his original slack key instrumentals. His style can best be described as nahenahe, a Hawaiian term that means soft, sweet, or of gentle voice - a fusion of old and new deeply rooted in tradition. Kimo's seven slack key CD's have garnered him much praise and well over 75 million streams on Pandora and Spotify.
Besides being acknowledged by the National Academy of Recording Arts and Sciences for his work on Mandatory Fun, West is also a recipient of the Hawaii Music Awards (American Music Awards equivalent) and has been honored by the Hawaii Academy of Recording Arts with a Na Hoku Hanohano Award (Hawaiian Grammy) nomination, is a two-time winner of the LA Treasures Award for his contributions toward the perpetuation of the Hawaiian slack key guitar, and most recently his album Moku Maluhia (Peaceful Island) received a nomination for the recording industry's most prestigious award, the GRAMMY at The Recording Academy's (NARAS) 61st Annual event. Honoring excellence and exceptional achievement, it is the recording industry's most prestigious award.