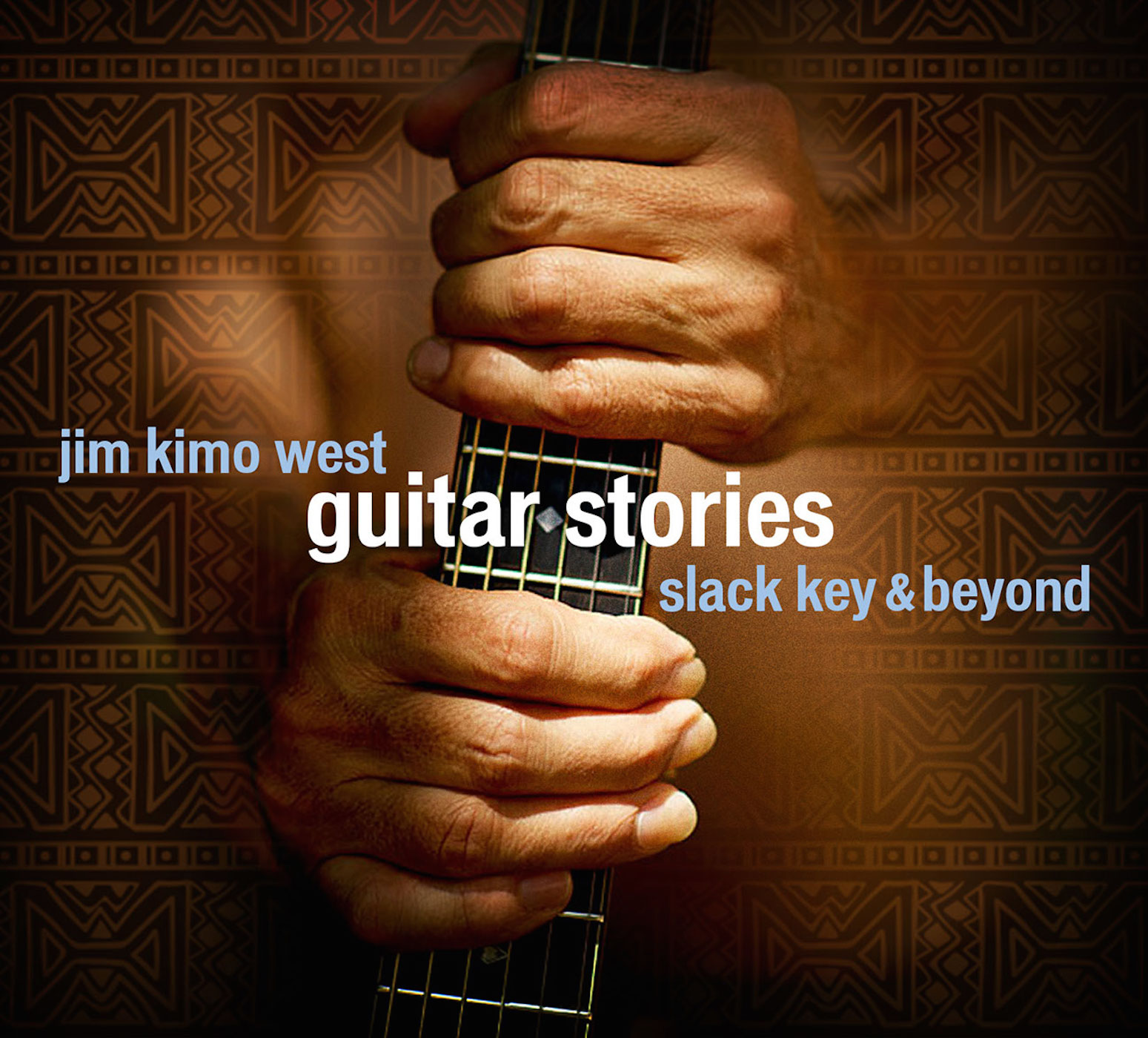 Download CD NOW
Listen on YouTube
Considered One of the World's
Top Slack Key Guitarists

Jim Kimo West is considered one of the world's top slack key guitarists worthy of kudos from Hawaiian masters of the open chord playing style based on dozens of mood-tinged tunings. Guitar Stories encompasses his technical fluidity and expressive qualities applying them to his ALL- ORIGINAL compositions and is considered one of the most beautiful acoustic guitar albums of 2015. If there is a soundtrack when you arrive in heaven, this is it.

From Maui to the mainland, Jim "Kimo" West has forged a reputation as a slack key guitar player worthy of kudos from Hawaiian masters of the open chord playing style based on dozens of mood-tinged tunings. George Kahumoku has invited him to play in the legendary Slack Key show in Maui. West's love and respect for Hawaiian culture comes through whether he is playing a coffeehouse gig or a festival. At the annual Slack key Festival in Redondo Beach, CA, he tends to collaborate with other players in subtle but creative ways and then astonishes hushed audiences with his solo slack key compositions. His latest CD, Guitar Stories (subtitled Slack Key & Beyond) encompasses his technical fluidity and expressive qualities, applying them to compositions that aren't typical Hawaiian slack key fare but are imbued with the soulfulness he has acquired from the genre on his life's musical journey.

The nine tracks on this CD are inspired by places, events, people, and even objects that have touched his heart. Brief liner notes enrich the listening experience, showing slack key tunings he uses, instruments he has mastered, his production skills, and his flair for collaboration. Five of the tracks make reference to Hawaii. For openers, we hear the rich tones of the acoustic baritone guitar in a solo composition dedicated to koa, the richly colored wood, which comes from the Big Island and is often crafted into quality guitars and 'ukuleles.

The second composition, Mauna Kea Meditation, brings to mind the piece by Keola Beamer that honors that same mountain's snow goddess. But West makes it his own sacred tribute, using the Anuenue Tuning he invented (D A E F# A D) to combine with several musical layers. Simon Vitucci on cello and Erik Rynearson on viola bring a deeply flowing reflectiveness to the piece.

The Iolani Palace Waltz, Track Six, suggests the Victorian culture that Hawaiian royalty emulated in the latter part of the nineteenth century. The combination of Kimo's acoustic guitar with a violin, viola, and cello resembles at times an elegant string quartet yet his use of the natural minor, his frequent emotive modulations and rolling crescendos and diminuendos paint add wistfulness to this portrait of a vanished era violated by American betrayal. In contrast, Mele Melehune, Track Eight, finds West a demonstrating his ability to be a one-man band, playing acoustic six and 12 string guitars, baritone acoustic guitar, steel guitar, percussion, and orchestral programming. He achieves other-worldly effects with this melange, very appropriate for a piece inspired by the legendary little people [spirits] of Kaua'i.

One also hears influences from cultures other than Hawai'i and the USA. The third track, El Alcazar, explores the Moorish layer of culture that is still evident in Southern Spain with Middle Eastern motives and the inclusion of a dumbek, riq, and shakers. His exuberant Morning Music, Track Five, mimics the scales a West African kora would typically produce.

West's eclecticism is on display in Daydream At Jumbo Rocks, a mood piece conjuring his California desert getaway spot in Joshua Tree National Park. On this fourth track, he plays the Moog guitar, an invention which has barely been in use for eight years; it allows him to sustain plucked notes and achieve a reverb effect that can't be duplicated by post-production devices. In addition he plays acoustic steel guitar, and Gorky bottle. What! You haven't heard of the Gorky bottle? You won't find it in Grove's Dictionary of Music. I emailed Kimo a query and he responded that it was a bottle he got from a now-vanished arty downtown coffee house called Gorky's that used to give away merchandise. "One if the items I got was a plastic sports bottle with the Gorky's logo (with Lenin's face)," he wrote. "I found that by squeezing the bottle I could get this whistling sound in different pitches, depending on how hard I squeeze it. It's just a quirky unusual sound and I had always wanted to use it on a recording."

In sum, Guitar Stories is the work of a musician/composer who is writing an eloquent chapter in his musical life, experimenting with sounds and influences from Hawai'i and elsewhere. Above all, one senses that he is confident of his own mature voice.
FolkWorks - Audrey Coleman
The sound of Hawaiian slack key guitar is about as close to fretboard heaven as you can get here on Earth. One guitarist who successfully brings the time-honored Slack Key guitar sound into the 21st century is California-based guitarist Jim Kimo West. In 2015, Jim released his latest masterpiece CD Guitar Stories – Slack Key & Beyond on his Westernmost Records label. The sound of Guitar Stories is very Hawaiian influenced yet there's also a harmonious chamber music / symphonic sound featured throughout the album, especially on the lush sounding "'Iolani Palace Waltz"—a track that echoes ancient Celtic music and old English folk music—a kind of instrumental madrigal, with the guitar featured as the main instrument. In addition to his acoustic guitars, the CD also features Jim's baritone guitar, moog guitar and percussion. Simply put, Jim "Kimo" West's Guitar Stories is one of the most beautiful sounding acoustic guitar albums of the year. Guitar fans looking to explore the wonders of Hawaiian style instrumental music need to listen to Guitar Stories.

MWE3 - Robert Silverstein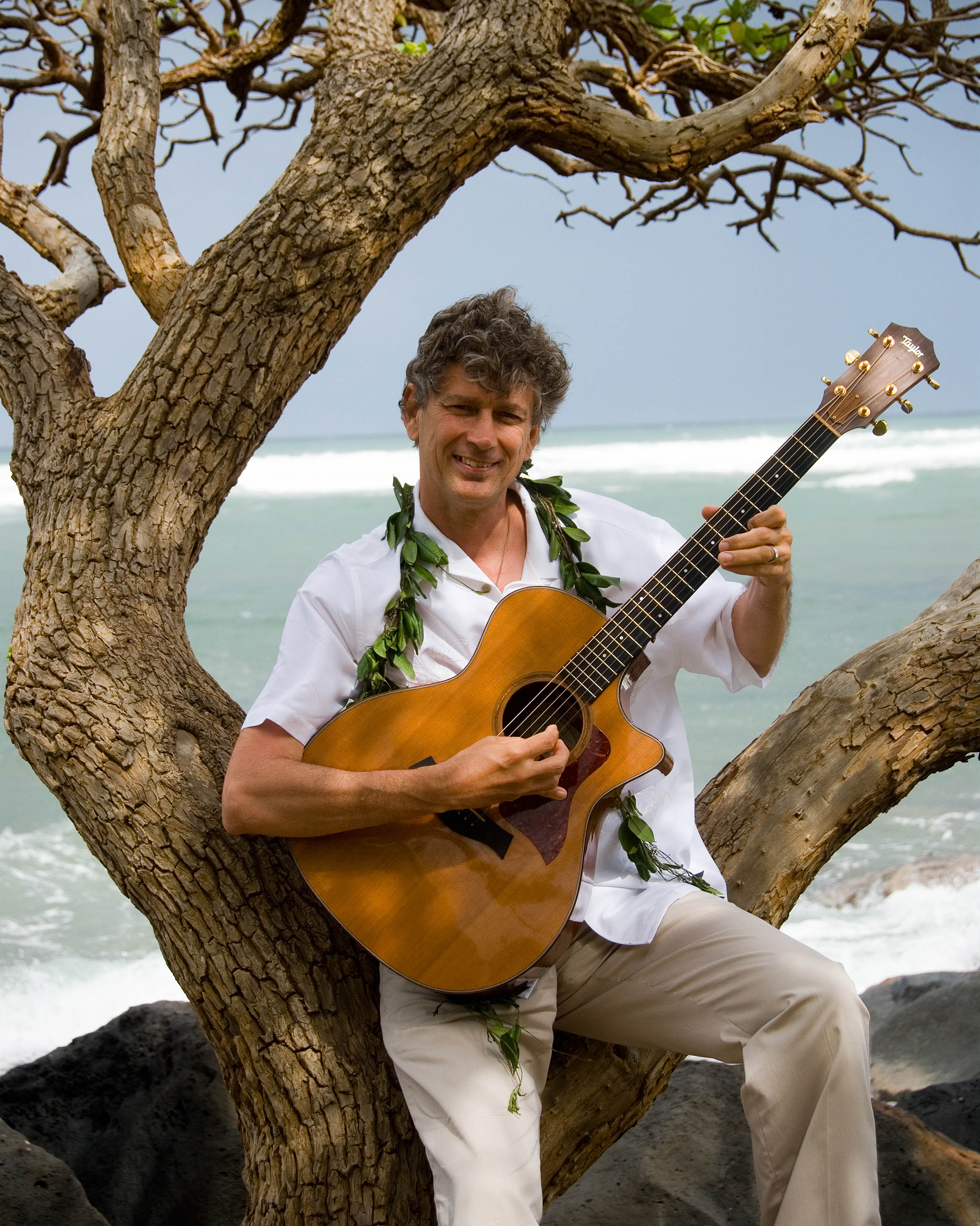 Jim Kimo West is recognized as one of the world's top slack key guitarists bringing his own unique musical perspective to this great acoustic guitar tradition. Besides his solo slack key career, West is best known as the long-time guitarist on CDs and tours for the world's most famous musical satirist, "Weird Al" Yankovic whose recent CD,
Mandatory Fun
debuted at #1 on the Billboard charts and won the Grammy for Best Comedy Recording. West is also a prolific composer with a generous output of new, exciting slack key guitar originals. In addition he writes and produces music for too numerous to mention feature films and television shows.
A Canadian native, West grew up in Florida and was playing professionally in various rock bands by age 16. A decade later he landed in Los Angeles and began working with "Weird Al" Yankovic. West can be heard on and seen in all of Yankovic's iconoclastic videos, albums, and concerts playing guitar.
In 1985 to decompress after a long summer Weird Al tour, Jim made his first trip to Hana, Maui. He fell in love with the culture and the physical landscape of Hawaii. As the sounds of Gabby Pahinui, the Sons of Hawaii, Sonny Chillingworth, The Sunday Manoa, and others played on the turntable, Jim jammed along for fun and relaxation. Already a long-time devotee of open tunings, he was immediately drawn to the gentle rhythms of the slack key guitar and soon began writing his own songs. West didn't concentrate on learning the standard riffs and songs but instead developed his own unique slack key vocabulary which now defines his very unique approach to this great tradition.
While always retaining the heartfelt essence of traditional slack key, Jim Kimo West brings his own musical heritage to his original slack key instrumentals. His style can best be described as nahenahe, a Hawaiian term that means soft, sweet, or of gentle voice - a fusion of old and new deeply rooted in tradition. Kimo's seven slack key CD's have garnered him much praise and well over 75 million streams on Pandora and Spotify.
Besides being acknowledged by the National Academy of Recording Arts and Sciences for his work on Mandatory Fun, West is also a recipient of the Hawaii Music Awards (American Music Awards equivalent) and has been honored by the Hawaii Academy of Recording Arts with a Na Hoku Hanohano Award (Hawaiian Grammy) nomination, is a two-time winner of the LA Treasures Award for his contributions toward the perpetuation of the Hawaiian slack key guitar, and most recently his album Moku Maluhia (Peaceful Island) received a nomination for the recording industry's most prestigious award, the GRAMMY at The Recording Academy's (NARAS) 61st Annual event. Honoring excellence and exceptional achievement, it is the recording industry's most prestigious award.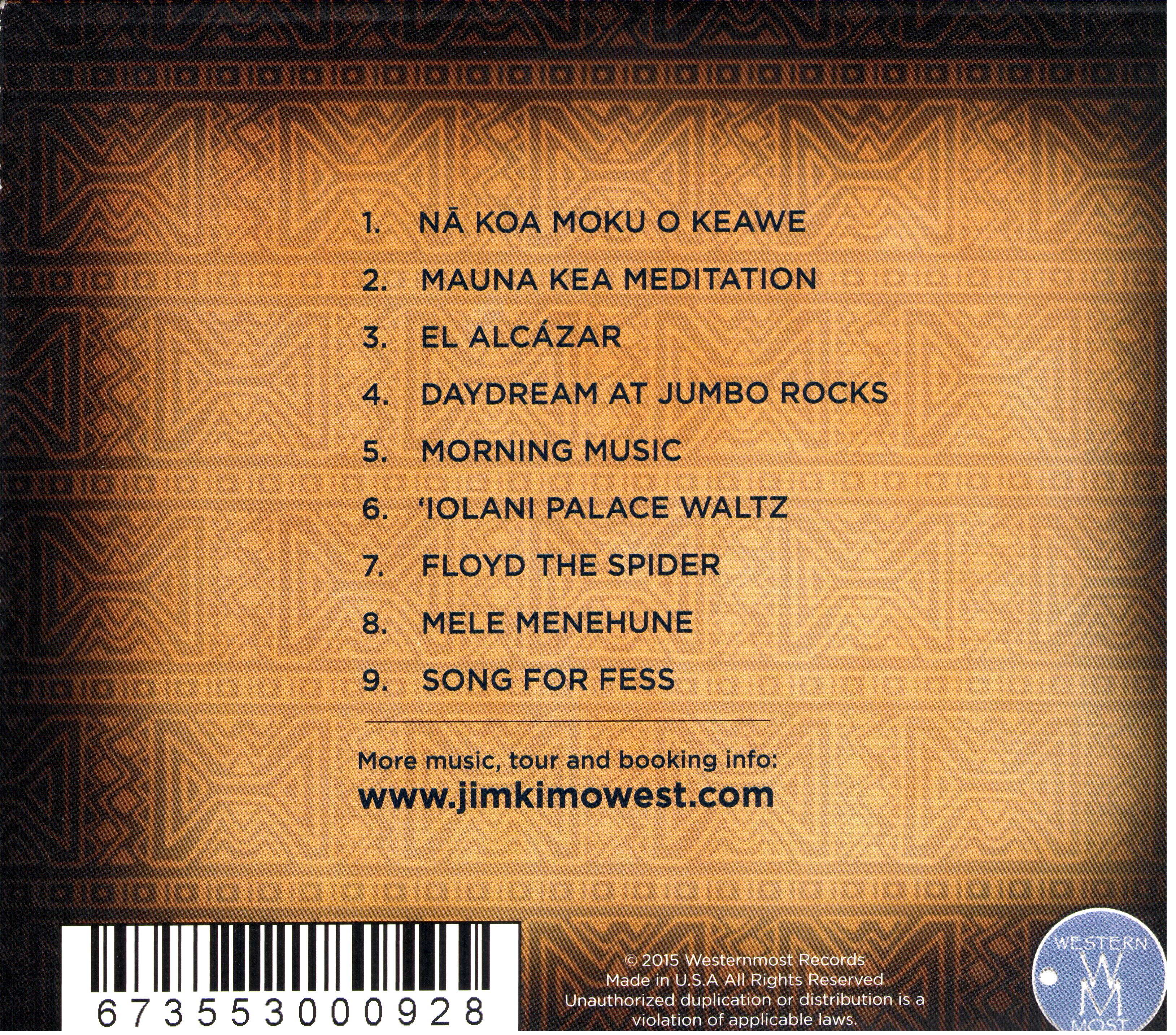 Jim Kimo West - Guitar Stories - Slack Key & Beyond WMR 3002-2