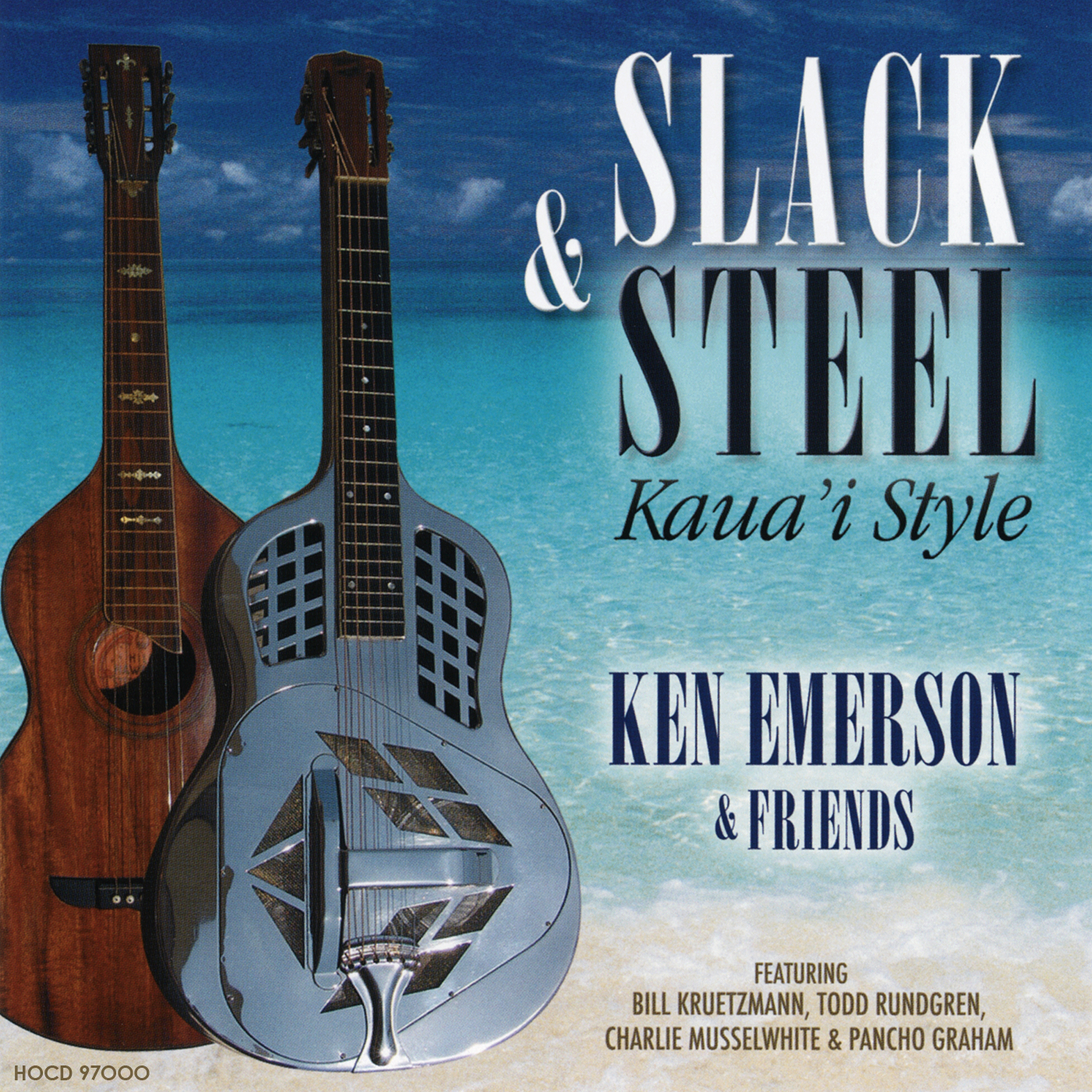 | | | |
| --- | --- | --- |
| | | |
| Download CD NOW | Listen on YouTube | Shipping to USA addresss ONLY |
A One-of-a-Kind Slack & Steel Guitar MUST-HAVE
Ken Emerson is one of the world's most highly regarded traditional Hawaiian slack key & steel guitarists living today. Emerson's unique playing style reflects the Hawaiian guitar's grassroots origins of over a century ago. For over 40 years Emerson has helped lead the way in resurrecting the traditions of vintage Hawaiian music tapping into classic jazz & blues influences, taking them a step beyond. Slack & Steel - Kauai Style is powerful acoustic Hawaiian slack & steel guitar music at its best.
Slack & Steel Kaua'i Style Ken Emerson's latest "Slack `n' Steel" effort really surprised me. I knew he had tons of range as an instrumen­talist, but he really came through with some awesome vocal performances and some really interesting compositions. This is the full package, folks. To boot, Ken is joined by some real music industry heavyweights including Todd Rundgren, the Grateful Dead's Bill Kreutzmann, and Charlie Musselwhite. Kauai bass whiz Pancho Graham plays on most of the tracks.
Ken is at ease and himself whether playing classic Sol-style resophonic, or contemporary slack key rhythms, or the blues, and with more than a touch of '60s folk-rock sensibility.

The CD is expertly recorded and packaged; you can hear lots of subtle playing effects and trail-offs on Ken's acoustic steel guitar, which generally has a deep tone, shimmering in the upper register, that is different from what you usually hear. Compare the classic Sol Ho'opi'i sound Ken gets on "Feelin' No Pain" and "Sassy Hula" to what he is gets on the rest of the CD. From what I can gather, he is playing steel using his slack key guitar on a lot of these tracks by lightly placing his bar on the guitar strings, taking care to avoid fret buzz. And he can switch back and forth between slack key mode and steel guitar mode. A really unique sound.

"Miloli`i Slack Key" is a dreamy composition by Ken that features his slack key and acoustic steel and a beautifully written bridge. "Nani Kaua'i" is an example of Ken's unique arrangement of a Hawaiian standard,
reminiscent of the way Gabby would play with a classic. Rock legend Todd Rundgren joins Kenny on vocals.

Ken sings great on "Lei Nani" and shows how he can use the bar and fret with his fingers in the same measure.
"Sand" is beautifully played and recorded. Ken makes it his own with interesting twists at the end. "Small Axe" is a slack key remake of a Bob Marley reggae classic. Ken considers this the "true Jawaiian" sound. Well, we wish all reggae-based Hawaiian music were this Hawaiian sounding. Don't worry. You'll dig it. "0 Akua" is a contemporary tune written by John Lincoln with a plaintiff message about the plight of modern day Hawaiians.

In Santo and Johnny's classic "Sleepwalk," acoustic steel and slack key engage in subtle conversation trading roles back and forth from lead to backup. You have to hit those harmon­ics perfectly on acoustic steel—electric steel has a lot more sustain—and Kenny does! "Ulili E" features a kind of rolling slack key jangle with a rootsy
Sons of Hawaii kind of feel. Ono! Yet another example of how much musical range Ken has.

"Too Much Kava Kava" is a cool blues tune Ken co-wrote with Charlie Musselwhite, who plays great bluesy harmonica on the track. "E Lei E" is one of my favorite hulas and Ken shines on vocals, steel, and slack key.
"Endless Summer" is an inter­esting Hawaiian treatment of the theme of the hit surf film of the same name.
On the Noble classic "Manuela Boy," check out the ad-lib verses writ­ten and sung by Ken! I like his modern slack key feel on this track.

"Ka Loke De Mi Corezon" is a Ken Emerson composition almost classical in delivery, a tribute to the influence of Portugal on Hawaiian music. A kind of steel guitar sonata... Very nice.

The final track of the CD, "E Kalihiwai," is an awesome Ken Emerson composition about his home district in Kaua'i. An ethereal explo­ration of textural overlays with a little exotica-meets-60s-folk-rock-psyche­delia.

Well, I tried. You'll have to check it out.

Ken has definitely carved out a niche for himself that is Hawaiian and relevant—that is, not merely retro or nostalgic. He has brought many tradi­tions together to create something new. That's how most great Hawaiian music came about, wasn't it? Major kudos, Kenny. A must-have.
Hawaiian Steel Guitar News - John Ely
This is a collection of recordings by one of the world's most eminent slack key players [Ken Emerson]. "Slack key" is a term referring to the detuning of the guitar from standard setting to one that results in a harmonic chord, usually G minor, when played open string. We all know what happens when one tunes down: pitch shifts and a more ringing atmosphere arises. Ironically, ethnomusicologists have noted that the guitar was introduced to Hawaiians by Mexican musicians who showed them how to play then left the natives to do with it as they would. What the Hawaiians came up with is inevitably evocative of the slow sultry balm of that most famed island chain on Earth. This particular body of music has been around for about a century but only recorded in the last 50 or so years, with Gabby Pahinui leading the emergent sounds.

Much of the sonority is a fusion of European and Hawaiian elements, particularly regarding hula and its accompanying mele (chant). Though most of the cuts on Slack & Steel are instrumental, Emerson included several in the lazily beautiful mele process. The listener can't help but become ensnared in these lullbye-ish atmospheres, as the two aspects (rich detuned chords and wafting vocals—often with backing parts) are lush and soporific.

The immortal Sleepwalk is presented, a generous fistful of less-known songs classic to the genre, a cover of a Bob Marley tune, and an original or two. Bill Kreutzman, Todd Rundgren, and Charlie Musselwhite sit in on a few tracks, and Emerson has toured with such luminaries as Pablo Cruise, Boz Scaggs, Jackson Browne, and a generous host of others. The cut with Musselwhite, Too Much Kava Kava, demonstrates how easily blues and slack key musics find common ground, sitting side by side, one never yielding way to other, happy and complicit in a natural fusion.

The elastically lazy sound of slack key is its chiefest feature, making ample room for clever play, and Emerson, especially in Feelin' No Pain, introduces tons of humor, a drunken loopiness, and quite a few musical diversions singular in their odd plays on orthodoxy and heterogeneity. Having heard a number of them previous to this, I've never run across a slack key CD so friendly to the ear. While there's very little flash or exhibitions of hyper-complexity, Emerson's gift is a knowing hand that imbues the songs with a glow and deft cleverness unusual to world music, especially that latter trait. Before long, newgrassers are going to lay ear to his work and catch a boatload of inspiration.
Folk & Acoustic Music Exchange - Mark S. Tucker

Considered one of the all-time TOP 10 covers of a Bob Marley song by a non-reggae artist is Ken Emerson's one-of-a-kind version of "Small Axe". Ken Emerson is a Hawaiian slack key and bottleneck blues guitar player who explores the common threads between each genre and occasionally ties in other genres as well. That's the case here, where he gives a light, jangly touch to a fairly intense song. It's got a nice vintage feel, and, for obvious reasons, has a great island-y feeling.
World Music About - Megan Rome
Kauai resident Ken Emerson made two significant contributions to local music almost 30 years ago. He recorded an album of acoustic Hawaiian music with his brother, Phil Emerson, in 1979, and then backed Moe Keale on Keale's career-best solo album, "South Sea Island Magic," in 1980.

Both albums demonstrated the beauty of early 20th-century Hawaiian music and the acoustic steel guitar at a time when local radio wasn't playing much of either. The moment passed, but Ken has continued to play acoustic steel and slack-key guitar. This aptly titled album displays the beauty of both instruments in interesting ways.

A fresh yet retro arrangement of "Sleepwalk" features the classic sound of the acoustic steel guitar. Santo Farina played an electric instrument when he recorded the hit version in 1959; Emerson shows how the song might have sounded if it had been recorded 40 years earlier.

Emerson's imagination as an arranger is seen in "Small Axe" and "Theme From The Endless Summer". There's no hint of reggae in the former and very little trace of the Sandals' thematic guitar riffs in the latter.

Two other songs give voice to Emerson's social consciousness. A gentle treatment of " 'O Akua," John Kalani Lincoln's account of Hawaiian history, decries the alienation of native Hawaiians from their land and traditional culture. Updated lyrics add an acidic nationalist vibe to "Manuela Boy" as Emerson comments on the contemporary problems of crime and the high cost of living here.

Emerson shows his respect for tradition elsewhere. Traditionalists will enjoy his work on "Sand," "Nani Kaua'i" and "Ulili E." "Feelin' No Pain" is significant twice over -- first as an update of an acoustic steel classic from the 1920s, second as the recording-studio reunion of Emerson and his brother.

Detailed annotation -- including essential information on the slack-key and steel-guitar tunings -- completes this beautiful collection of Hawaiian music played "Kauai style."
Honolulu Star Bulletin - John Berger - Island Mele
Ken Emerson is one of the world's most highly regarded traditional Hawaiian slack key & steel guitarists living today. He is a monster player of both and he switches easily between them during his performances, laying his guitar on his lap and picking up a steel bar for an instrumental interlude. Emerson is famous for his one-of-a-kind slack/steel style playing of vintage acoustic steel bodied National Resonator guitars.

Emerson's unique playing style reflects the Hawaiian guitar's grassroots origins of over a century ago. He has developed his unique style through many musical genres. He has played his special blend of Blues/Jazz Hawaiian guitar for 40+ years. Born into a musical family, Emerson grew up with his fathers' extensive record collection of jazz, swing, Hawaiian and world music styles.

Living in the San Francisco Bay Area, Emerson played the folk and blues songs of the early '60s, a lefty learning right hand finger-style techniques that led to his development as a finger-style picker. With the explosion of the San Francisco sound of the mid-later '60's Ken also immersed himself into rock and electric blues styles. He was particularly drawn to bottleneck and slide guitar.

In 1968 Ken's family moved to Hawaii. Absorbing the Hawaiian culture, Ken began studying Hawaiian language and music emulating the players of the 1920's and '30s era by listening to vintage Hawaiian 78 rpm records, zeroing in on the jazz and blues styles of Sol Ho'opi'i and Sol K. Bright. Soon Emerson was playing alongside such legendary performers as Gabby Pahinui, Genoa Keawe, Raymond Kane, Moe Keale and Auntie Alice Namakuela.

Emerson won the prestigious Kahili Award for perpetuating Hawaiian culture, and is a featured artist and composer on the first-ever National Academy of Recording Arts & Sciences GRAMMY Award winning Best Hawaiian Album. Emerson's playing is also featured on Donald Fagen's (Steely Dan) Grammy Award winning Morph the Cat. He has many additional touring/recording credits including Jackson Brown, Boz Scaggs, Charlie Musselwhite, Taj Mahal, and Elvin Bishop.

Emerson has helped lead the way in resurrecting the traditions of vintage Hawaiian music, tapping into classic jazz & blues influences along the way. Emerson has performed on at least a dozen Cord International - Hana Ola Records compilations with five solo releases on that label. Dividing his time between Kaua'i and San Francisco, Ken plays many Hawaiian venues and festivals and frequently tours the United States as well as Europe and Asia.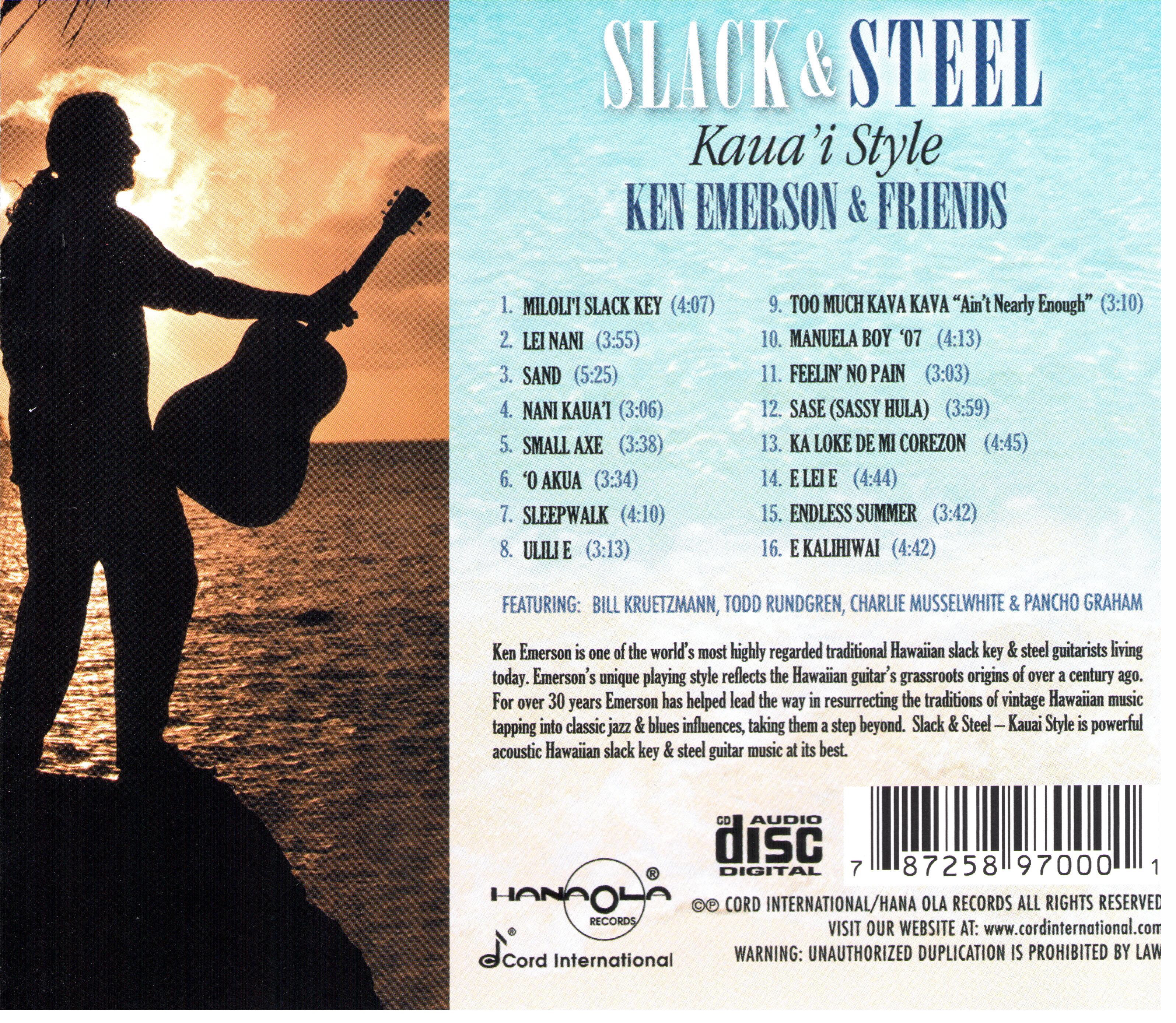 HOCD97000 - Ken Emerson - Slack & Steel Kaua'i Style