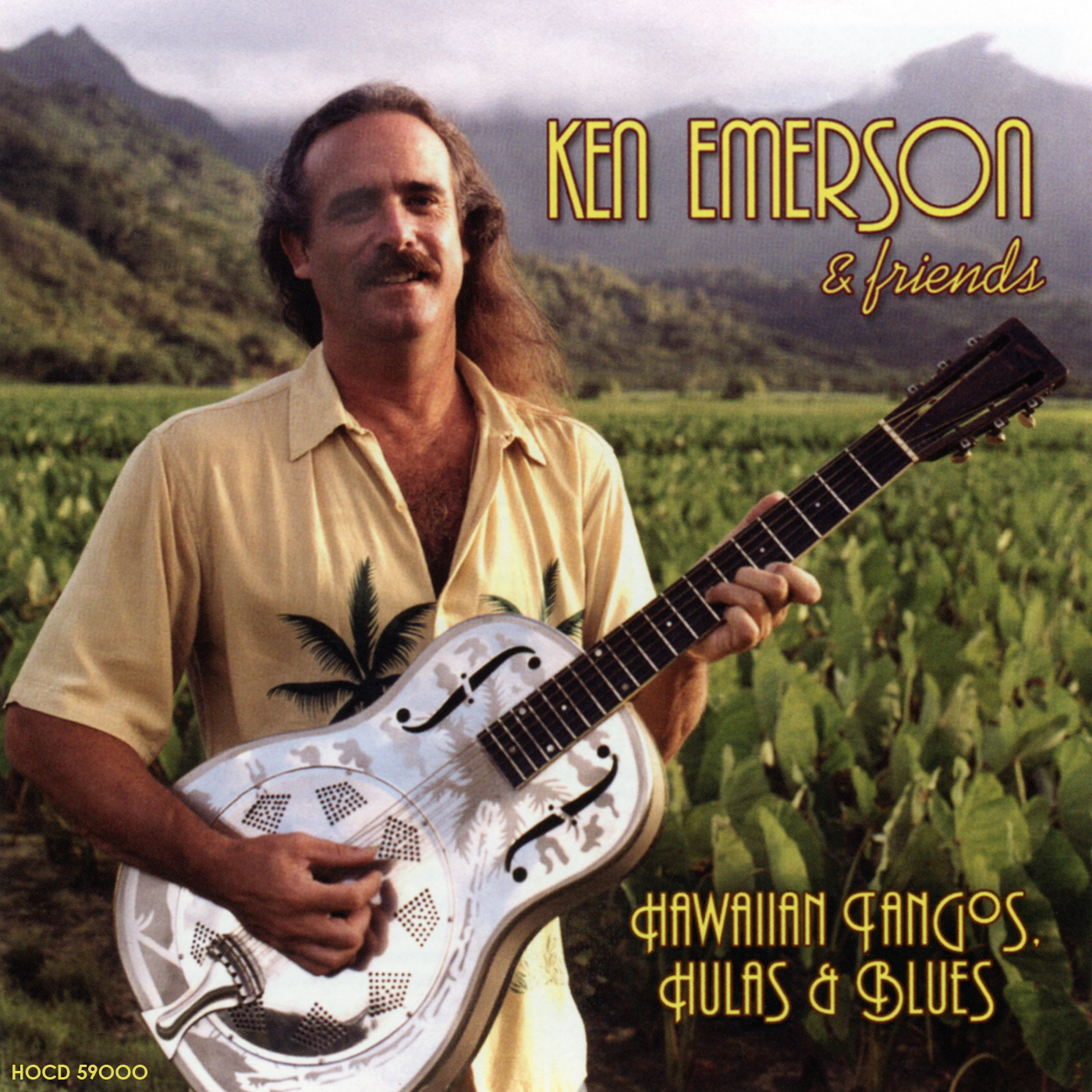 | | | |
| --- | --- | --- |
| | | |
| Download CD NOW | Listen on YouTube | Shipping to USA addresss ONLY |
American Roots Meets Traditional Hawaii

An intoxicating all-acoustic musical journey featured on NPR's All Songs Considered where American roots meets traditional Hawaii in the company of some spicy Latin & Caribbean influences making for a potent package. Emerson stretches the limits pushing into new territory; he's a dynamo and one of the most powerful pickers in Hawaiian music today.

Oakland, California-born Ken Emerson is one of Hawaii's premier slack key and steel guitarists and has been performing and recording his all-acoustic magic with world flair in a variety of settings for more than 30 years. From the outset, in the mid-1970s, his focus was the preservation and renewal of the early 1900s classic Hawaiian sounds and stylings--following in the footsteps of such legendary island musicians as Gabby Pahinui, Auntie Alice Namakelua, Atta Isaacs and Sol K. Bright.
Emerson is also a gifted songwriter in the same tradition with five strong originals on this self-produced project. The opening Roselani blends a mariachi ambience with the quietude of a Hawaiian string quartet while the lively Tropico Pacifico is a slack-keyed tango (with some intoxicating triplet and flamenco shadings) and the only shortfall of the sprightly ukulele jam Slack Key Uku is its brevity. Kalihi Blues is a marvelous 1920s style Hawaiian jazz-blues instrumental, with Emerson playing a 1928 National tri-coned steel instrument, while the closing Limahuli Dream features a trio of reflectively resonating guitars.
Guest musicians abound. A couple of the most arresting are local chanter Kumu Hula Pa'ula Chandler, who enchantingly offsets his sweet, falsetto singing against twin steel guitars on Hilo Hanakahi and England's Papa George, who strums his Yamaha effusively on his Elvis tribute Moonshadows on Coconut Grove. Todd Rundgren, Pancho Graham, Lorin & Chris Rowan, Darlene Ahuna (you won't be able to put her soulful vocal on Kalamaula out of your mind for a while), Cindy Combs, and Dave Jenkins also put in quixotically retro appearances.
A vivid voyage to another place and time that quite successfully integrates an old world territorial era sound with a new, borders-expanding energy. Mr. Emerson's fretwork, throughout, is technically fearsome.
Sing Out! Spring 2005 - Gary Von Tersch
Territorial sounds, transported though stylings of a wizard of acoustic guitar and steel guitar, should appeal to those who relish nostalgia. Ken Emerson has been one of the Islands' masters of ki ho'alu and steel guitar, specializing in vintage sounds from the Territorial era. This collection demonstrates the hypnotic lure of the genre, with Emerson playing guitar and steel in the acoustic mode. He also is a singer and composer and has tapped a wellspring for support, with the likes of Darlene Ahuna, Todd Rundgren, Cindy Combs, Papa George and more to add credence to his artistry. Roselani, Moonshadows on Coconut Grove, Kalamaula, Ulupalakua, Hilo Hanakahi and Wahine Ilikea best represent his theme of tango and blues, Island-style. The outlook: With the scarcity of product that handsomely reflects a devoted past, this one says it best. Our take: A richly rewarding and nostalgic stroll through time with a capable guide.

Honolulu Advertiser -Island Sounds - Wayne Harada
"I am shivering with delight! Anyone who enjoys vintage Hawaiian music must get a copy of this album! While it holds a treasure of other styles, the two tracks Kalamaula and Hilo Hanakahi are the very soul of vintage Hawaiian music. Emerson's original instrumental composition Limahuli Dream is so emotional. It is as beautiful a song about love as you will ever hear."
Taropatch Steel Kona Bob

Something for Everybody! Five Stars
"Ken Emerson is one of the most versatile musicians I've ever heard. He's one of the best Hawaiian steel guitar players in the world, but he's also a great blues player, has a good singing voice, and has written some really good tunes, as well. You'll hear everything on this CD from traditional Hawaiian music featuring the fabulous Darlene Ahuna singing Kalamaula, original tangos and island rhythms with help from the Rowan Bros., to heart-breaking-ly beautiful steel guitar melodies: the original, Limahuli Dream, is an example, and classic blues such as Sitting on Top of the World that has England's Papa George contributing some vocals. Ken's flourishing touches on The Third Man Theme make me smile every time I hear it! I don't think you'll regret getting this CD."
S. Stoffer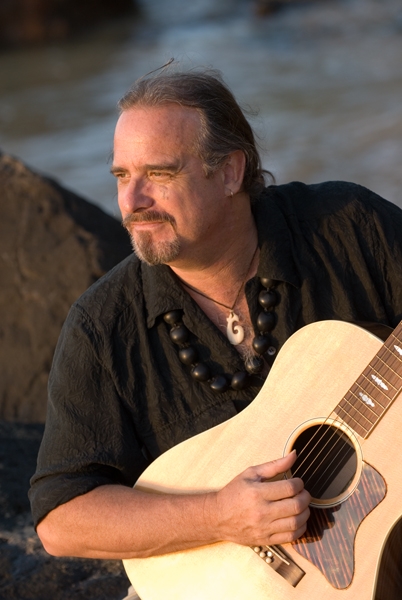 Ken Emerson
is one of the world's most highly regarded traditional Hawaiian slack key & steel guitarists living today. He is a monster player of both and he switches easily between them during his performances, laying his guitar on his lap and picking up a steel bar for an instrumental interlude. Emerson is famous for his one-of-a-kind slack/steel style playing of vintage acoustic steel bodied National Resonator guitars.

Emerson's unique playing style reflects the Hawaiian guitar's grassroots origins of over a century ago. He has developed his unique style through many musical genres. He has played his special blend of Blues/Jazz Hawaiian guitar for 45+ years. Born into a musical family, Emerson grew up with his fathers' extensive record collection of jazz, swing, Hawaiian and world music styles.

Living in the San Francisco Bay Area, Emerson played the folk and blues songs of the early '60s, a lefty learning right hand finger-style techniques that led to his development as a finger-style picker. With the explosion of the San Francisco sound of the mid-later '60's Ken also immersed himself into rock and electric blues styles. He was particularly drawn to bottleneck and slide guitar.
In 1968 Ken's family moved to Hawaii. Absorbing the Hawaiian culture, Ken began studying Hawaiian language and music emulating the players of the 1920's and '30s era by listening to vintage Hawaiian 78 rpm records, zeroing in on the jazz and blues styles of Sol Ho'opi'i and Sol K. Bright. Soon Emerson was playing alongside such legendary performers as Gabby Pahinui, Genoa Keawe, Raymond Kane, Moe Keale and Auntie Alice Namakuela.

Emerson won the prestigious Kahili Award for perpetuating Hawaiian culture, and is a featured artist and composer on the first-ever National Academy of Recording Arts & Sciences GRAMMY Award winning Best Hawaiian Album. Emerson's playing is also featured on Donald Fagen's (Steely Dan) Grammy Award winning Morph the Cat. He has many additional touring/recording credits including Jackson Brown, Boz Scaggs, Charlie Musselwhite, Taj Mahal, and Elvin Bishop.

Emerson has helped lead the way in resurrecting the traditions of vintage Hawaiian music, tapping into classic jazz & blues influences along the way. Emerson has performed on at least a dozen Cord International - Hana Ola Records compilations with five solo releases on that label. Dividing his time between Kaua'i and San Francisco, Ken plays many Hawaiian venues and festivals and frequently tours the United States as well as Europe and Asia.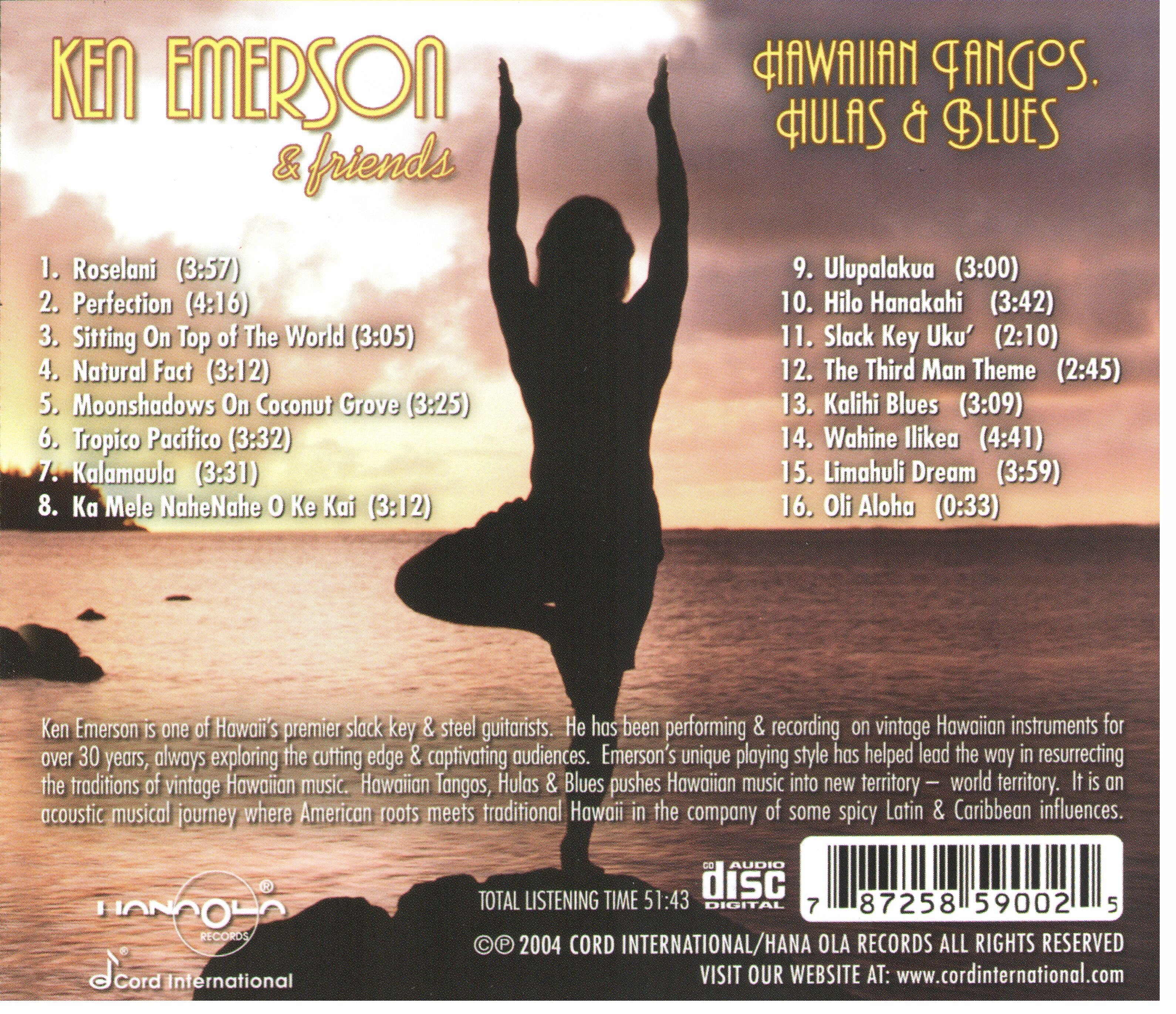 HOCD59000 - Ken Emerson - Hawaiian Tangos Hulas & Blues