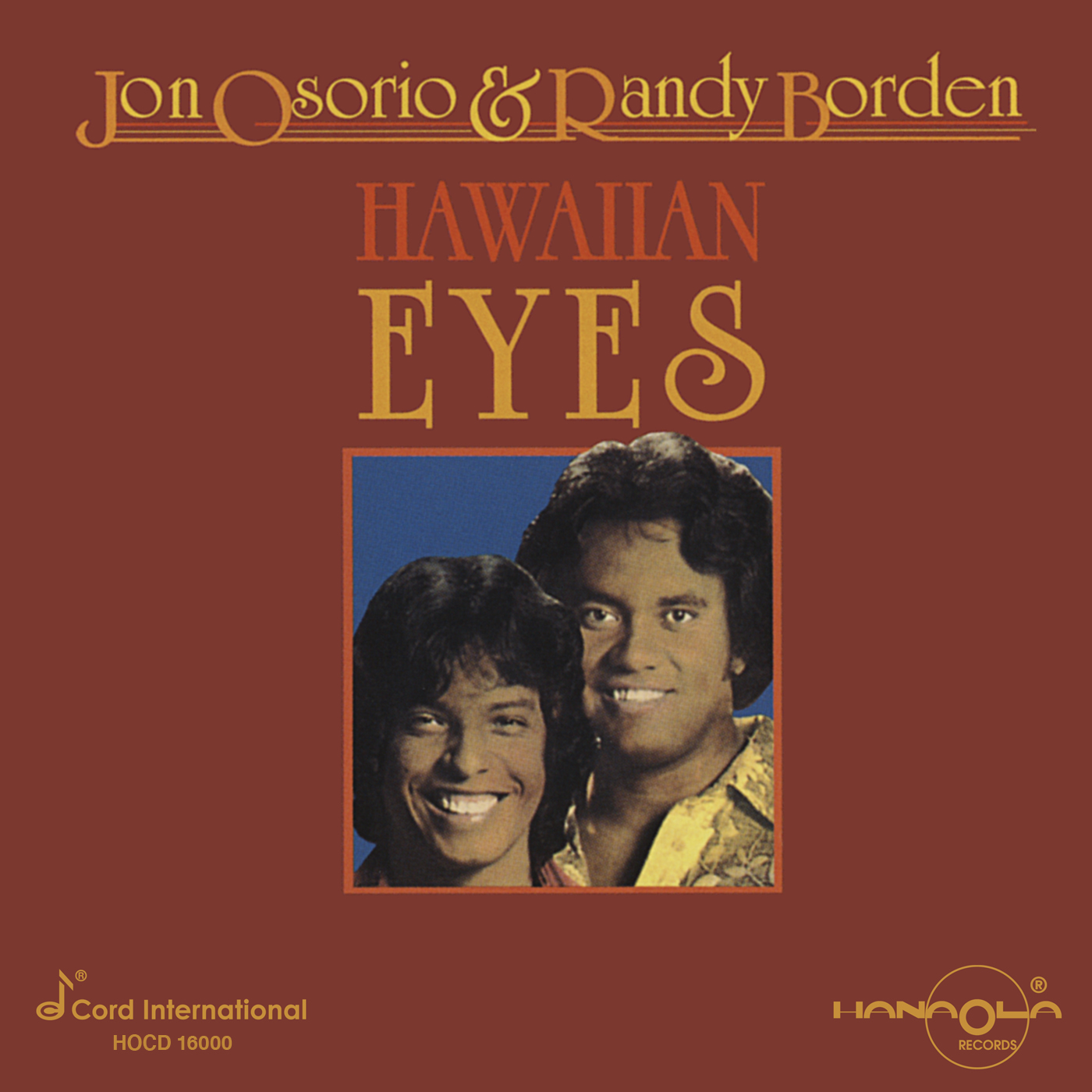 | | | |
| --- | --- | --- |
| | | |
| Download CD NOW | Listen on YouTube | Shipping to USA addresss ONLY |
70s Award-WinningTimeless Harmonies
Jon & Randy were major players in 1970s Hawaiian music. By the end of the decade they were up there with the now legendary Brothers Cazimero, Keola & Kapono Beamer, and Olomana... and they'd affiliated themselves with John F. Leonard. It was an inspired alliance. Leonard was one of Hawaii's Big 3 concert promoters and the publisher of Sunbums (the Hawaiian equivalent of Rolling Stone), so Jon & Randy became the opening act for almost all of his concerts - from acoustic guitarist Leo Kottke - to the Jacksons - to the Tower of Power. 1981 brought many accolades for the title track of this recording produced by Cecilio Rodriguez ( of Cecilio & Kapono fame) including Song of the Year Na Hoku Hanohano (Hawaiian Grammy equivalent) Award Winner. This album is considered one of the best records produced in Hawaii in modern times and is ranked #3 on Hawaii Magazine's Essential Summer playlist of favorites from across the decades. Beautiful timeless harmonies, superb lyrics, rich beautiful voices, accompanied by sweet harmonica, catchy flute and percussion, smooth sax, classical guitar, and the sweet sounds of real strings courtesy of the Honolulu Symphony.
You guys know how much I love a good 1970s vibe. And this song [Hawaiian Eyes] complete with some killer jazz flute - rocks me to my core! This is an instant feel good song for me. I can't help it... I start swaying and my neck starts swinging. Over the top awesomeness!
Accidental Hawaiian Crooner Jason Poole
Recalling good times with Hawaiian Eyes. As part of a Classic Collector Series, Jon and Randy's Hawaiian Eyes album has been digitally re-mastered and reissued. It's like encountering an old friend: it's a satisfying rediscovery and reunion.

The group, composed of Jon Osorio and Randy Borden, were popular on the club and concert circuit from the mid-1970s to the early 80s. The title tune, which the duo co-wrote, won Song of the Year laurels in the 1981 Na Hoku Hanohano Awards.

The reissue likely will introduce the duo's music to a new generation of listeners, a folksy-pop blend that taps both contemporary Hawaiian elements with traditional Top 40. Their cover of In My Life/For No One, a montage of Beatles songs, typifies their gift of interpretation, while the haunting and poignant Hawaiian Soul written by the two as a fond tribute to the memory of George Helm ( a fellow singer-composer who vanished in the seas), is a reflection of their ability to combine emotion with creativity in a living memorial to a gifted artist.

Borden's Starnight twinkles with heavenly allusions, Osorio's The Margin is an enduring postscript about unrequited love.

Since the group parted company in 1982, there's no hope for a live performance. Osorio today is an educator, historian, and Hawaiian studies expert, working toward his doctorate; Borden has migrated to the Pacific Northwest.
Wayne Harada, Honolulu Advertiser Entertainment Editor ~ March 20, 1993
The song Hawaiian Soul was written on the day in March 1977 when the search for the missing Helm and Mitchell was called off and the two were presumed dead. The Molokai-born Borden with his partner in music Jon Osorio co-wrote Hawaiian Eyes, which won Song of the Year honors in the 1981 Na Hoku Hanohano Awards. These guys should have had more than two albums in their all too brief careers. Soothing, mellow vocals. I was really hoping they'd get back together again and give us some more tunes. They were probably too folksy for renaissance Hawaiians and too mellow for the new wave of contemporary fans. Their medley rendition of the Beatles In My Life/For No One is still one of my all-time favorites. Buy this one.
Kaleo's Music Honolulu - 1993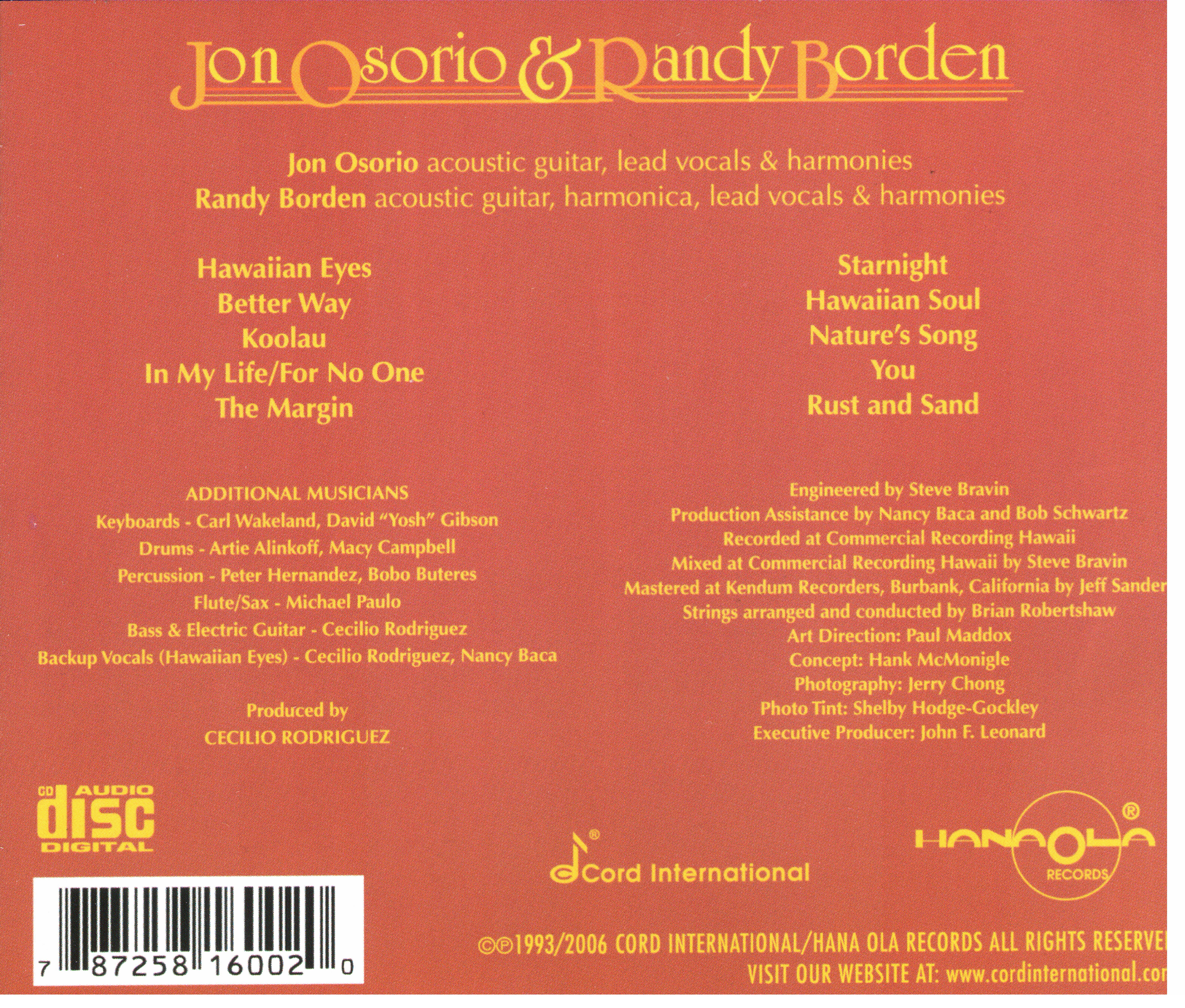 HOCD16000 - Jon & Randy - Hawaiian Eyes