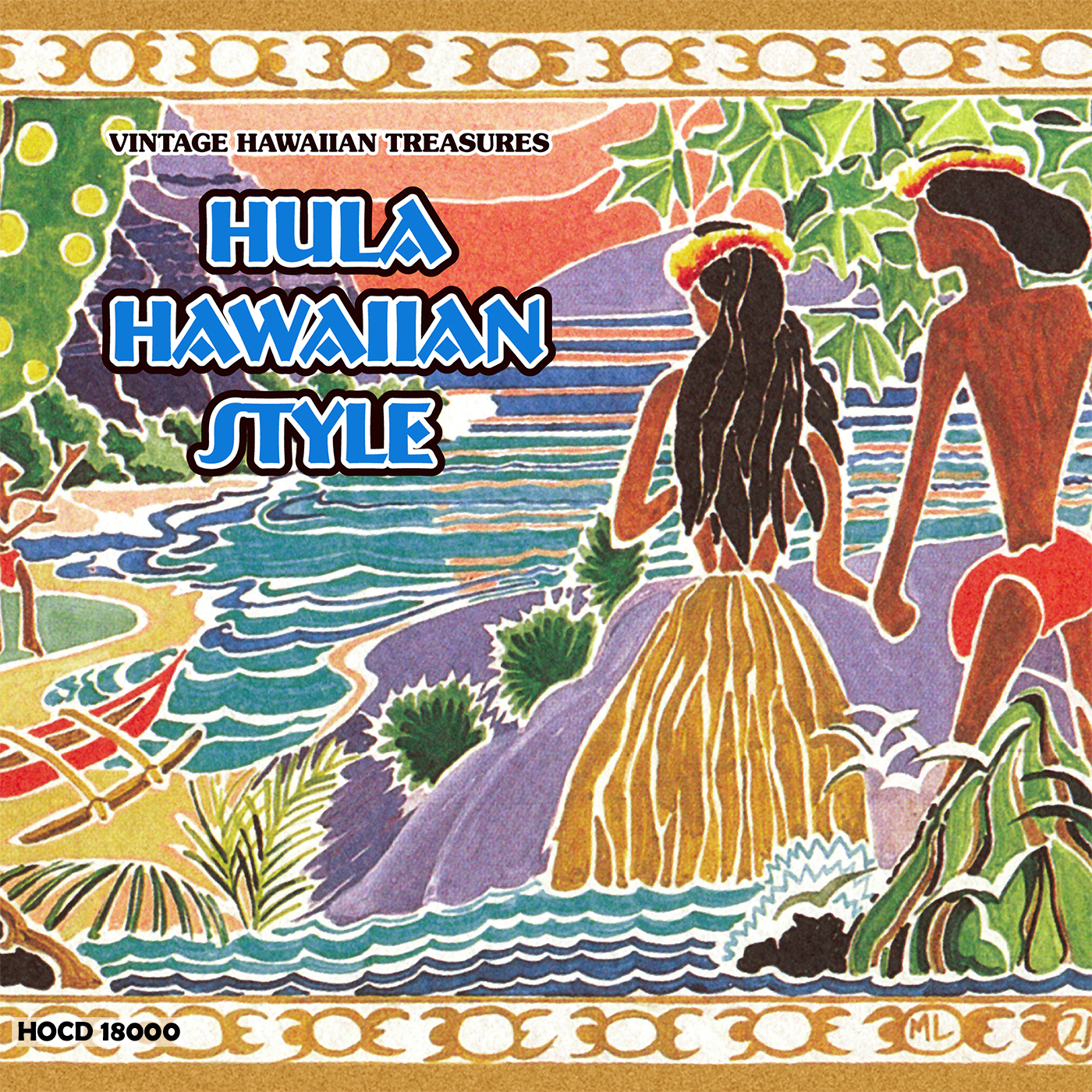 | | | |
| --- | --- | --- |
| | | |
| Download CD NOW | Listen on YouTube | Shipping to USA addresss ONLY |
A MUST-BUY
For Fans of Territorial Era Music
Traditional Hawaiian Hula music that has been lovingly passed down from generation to generation, preserving Hawaii's rich cultural heritage. Compiled from the vaults of the original 49th State Hawaii Records catalog originally released on 78 rpm, this is beautiful and timeless Hawaiian hula performed in the Hawaiian language by some of the greatest stars that Hawaii has ever heard. The best of the best Hawaiian Music Hall of Fame Inductee Legends including John Kameaaloha Almeida, John Pi'ilani Watkins, and Genoa Keawe; including Maile Swing the first recording she ever made. Recommended listening by Hawaii History Org, a Hawaiian Community Learning Center.

Absolutely gorgeous modern hula and hapa-haole recordings from the 49th State label, with sizeable contributions from the label's musical director, John K. Almeida, and several vocals by Genoa Keawe and her Hula Maids. It's lovely, classic material from the late 1940s and early 1950s -- dreamy and wavelike, perfect for repeated listens and putting on when you want to kick back and mellow out. These songs have already stood the test of time over the decades. Likewise, if you pick up this disc, you're sure to get a lot of mileage out of it over the years... Recommended! One of my favorites in the Hana Ola series.
Slipcue - DJ Joe Sixpack's Hawaiian Music Guide
More Gems from the 49th State. Michael Cord and producer Harry B. Soria, Jr. return with a second 14-song collection of Territorial Era Hawaiian and hapa-haole classics from the vaults of George K. Ching's 49th State Hawaii Records.

Cord acquired the rights to the label's library for the purpose of making the recordings available on contemporary compact disc and chrome tape cassette.
Disc or cassette, the album is a MUST-BUY for fans of Territorial Era music. John Kameaaloha Almeida, Genoa Keawe, Joe Keawe, John Pi'ilani Watkins and Jacob K. Maka are among the artists showcased. Just having a clean copy of Genoa Keawe singing Maile Swing is incentive enough for many fans, but the other selections are comparable.

Cord and his technicians have done wonders remastering the original acetate and primitive tape recordings. Soria's detailed annotation includes a brief history of Ching's label, an overview of the music, and a synopsis of each song and the performers.
John Berger Star Bulletin - April 1994
Five Stars. My Grandmother is on this album. I love it! It reminds me of home.
love Hawaiian Music, especially Vintage Hawaiian Treasures, Vol. 2: Hula Hawaiian Style. I recommend it unconditionally to other Hawaiian music lovers. It's Hawaiian music that brings the islands home.
Five Stars. Good songs and music. I feel like I'm in the Hawaiian islands. Thank you for making it available.
The songs on this CD are Vintage Hula recordings made right after WWII on the 49th State Hawaii Records label. Great restoration and sound. Play this CD at your next luau and everyone will get up and hula. Five Stars.
Great album for those who like old style Hawaiian music. Five Stars. I was impressed. Contains Genoa Keawe's first recorded song, plus great songs by Johnny Almeida, Joe Keawe, and others. Made me want to get up and hula! And I did! A real good value.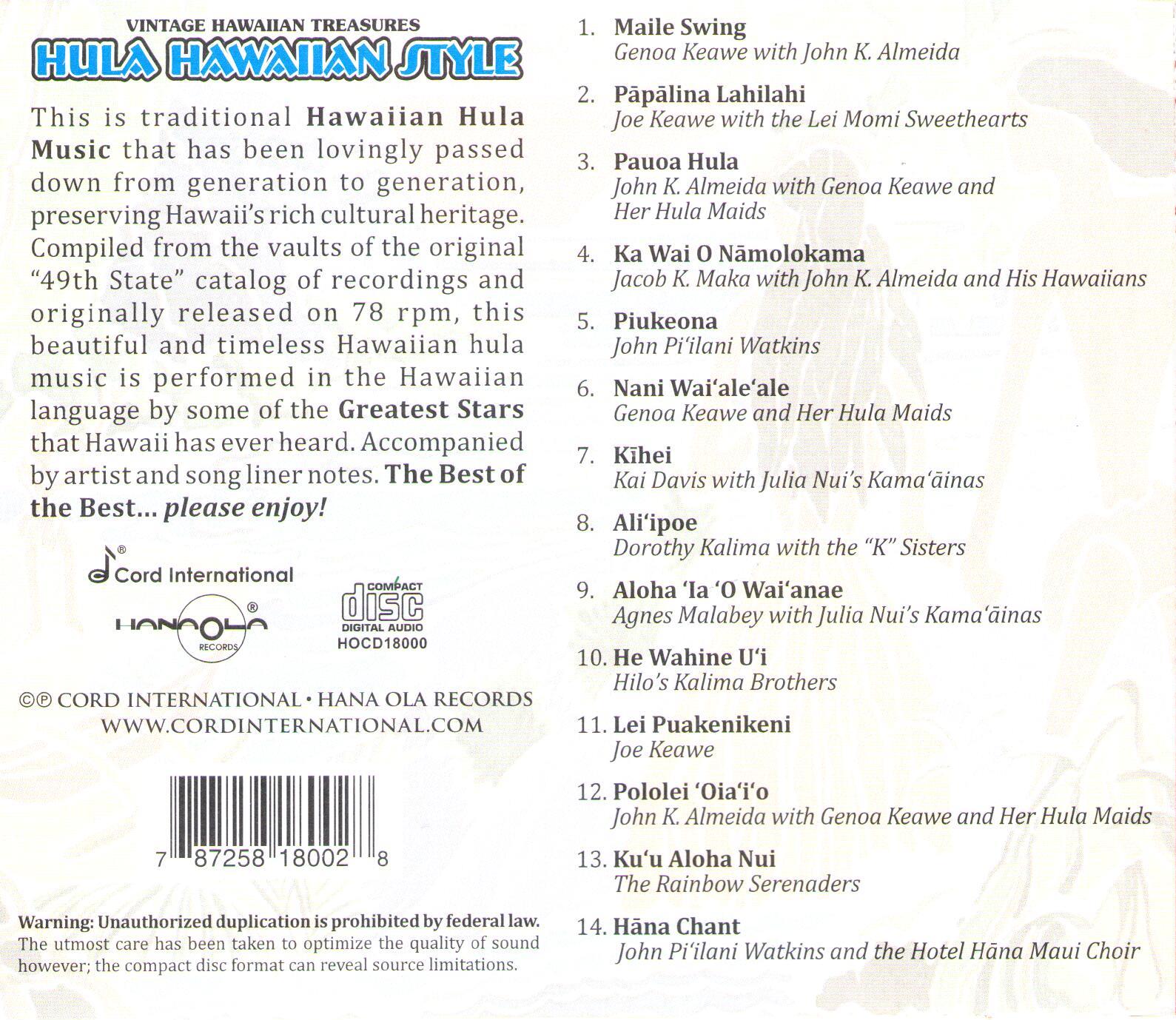 HOCD18000 - Hula Hawaiian Style