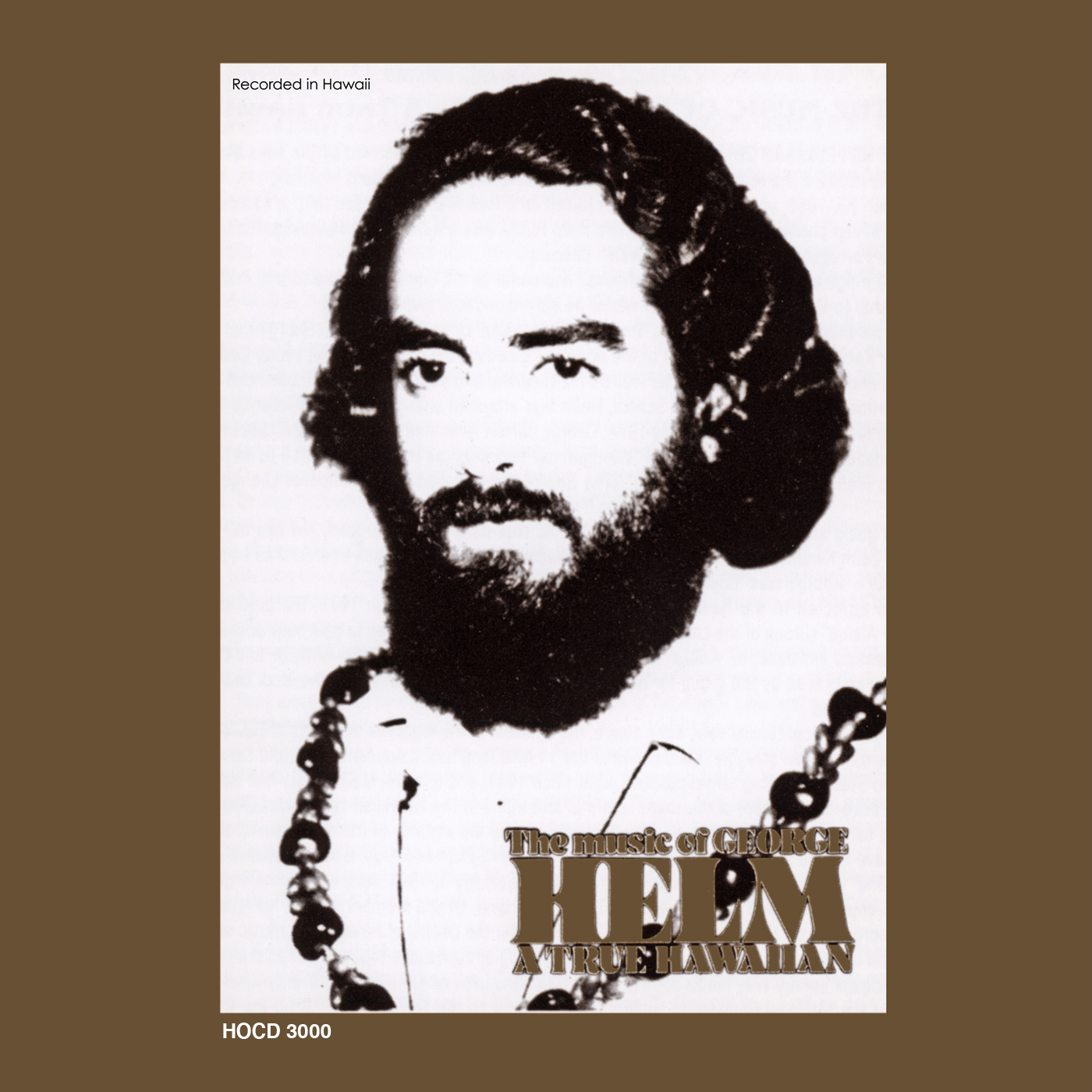 Download CD NOW
Listen on YouTube
Shipping to USA
addresss ONLY
One of the Greatest Hawaiian Albums of All Time
An esteemed panel of musicologists, producers, and artists selected The Music of George Helm - A True Hawaiian to be one of the greatest Hawaiian albums of all time. George Helm is widely recognized as one of Hawaii's best musicians. He was also known for pioneering many Hawaiian sovereignty concepts including Aloha'Aina and rallying Hawaiians everywhere as the leader of the Protect Kaho'olawe Ohana, a group opposing the U.S. military's use of the island as a bombing range. Helm's sweet soaring falsetto singing voice, his own relaxed song introductions, his Molokai'i Stroke guitar playing, and his own cutting edge interpretation of Hawaii's old-style music on this 24-track Na Hoku Hanohano Award winning album offer up a timeless trip to a Hawaiian evening in 1976.
Without the 'aina (the land) and without aloha 'aina (love for the land) we have nothing. - - George Helm
Five Stars. Classic recordings from a true Hawaiian, this is George Helm. Falsetto vocals unmatched in time, beautifully re-mastered in this album. His haunting vocals and instrumentations are beyond explanation. You have to sit back, relax and float away on this gorgeous Hawaiian wave. We lost George Helm at a very young age. Thank God we have this album to hear and remember him. This album is a true treasure.
Highly recommended.
Patricia Marte Los Angeles, CA
My emotions run high about this release. I am quite passionate about the music of George Helm. I must have written this review a hundred times in my head. I am not recommending, I am not suggesting, I am not asking you to buy this album, I am telling you to get it! The music here is some of the most beautiful you will EVER hear. Forget the Waikiki entertainers, this is pure Hawaiian music played by the purest Hawaiian I've ever heard about. The best falsetto voice in my time. Certainly one of the best of all-time. A unique guitar style sometimes called Moloka'i Stroke, that has flamenco influences. George's untapped potential barely scratched here, is probably one of the sources for my unbridled passion for his music. Here is but a twinkle of what could have been. He sings so effortlessly. How does a human being sing so high for so long? Even if you've never heard George Helm before, once you put this on you will realize why this album means so much to me and to so many others.
Kaleo's Korner Volume 4, Issue 2 April 1996

A wonderful collection by a contemporary legend. The recordings George Helm made in the final year of his life befit his status as a contemporary Hawaiian legend. Painstakingly remastered and repackaged by Michael Cord and Harry B. Soria Jr. as Volume 11 In Cord's Classic Collector Series, "The Music of George Helm - A True Hawaiian" shows that Helm also should be remembered as an accomplished vocalist and musician.

Cord's series is rightly known for its high quality. The work here is excellent. Soria's annotation puts the recording in historical perspective; Mel Masuda's original 1977 liner notes are included as well and capture the spirit of the era.

The selections are almost all Hawaiian. A few hapa-haole classics add variety. Picking highlights from 24 selections is difficult, but "Kalama'ula," "Waikiki" and "Kauoha Mai" are certainly among them. Helm's brief on-stage comments add a sense of the original live setting to the collection.

Helm received an unofficial posthumous Hoku Award in 1978. This album will be eligible for "Best Anthology" in 1997. Expect it to win.

John Berger ~ Honolulu Star Bulletin
Produced in 1977 by the Protect Kaho'olawe 'Ohana, this program features scenes from the last years of the life of George Jarrett Helm, Jr. as he worked tirelessly to stop the bombing of Kaho'olawe and inspire others to take up the cause of Aloha 'Āina
(love and protection of the land). Video of his classroom presentations, musical performances, speeches and interactions with government are supplemented with news stories and location shots of early occupations of Kaho'olawe.
The Music of George Helm - A True Hawaiian (Hana Ola Records) is a live performance recorded at a Honolulu nightspot in 1976. The following year Helm, a 26-year-old Hawaiian who played "Molokai stroke" guitar and sang in falsetto, died at sea during protest efforts to reclaim the tiny island of Kahoolawe from the U.S. military. Helm was one of the promising stars of old-style Hawaiian music at the time of his death, and this remastered CD is a window to a pleasant Hawaiian evening two decades ago.
Dewey Schurman ~ Islands Magazine 1996
The sweetest falsetto Hawai'i ever heard deserves more than five stars. Not only is the mele overwhelmingly nani no ho'i, but when George begins to himeni the leo is more than nahenahe.. Only he can bring any justice to my favorite Hawaiian falsetto song of all time, Kalama'ula. Hu ka ue! I grew up listening to his amazing voice on my Mom's old vinyl; please don't pass up the chance to hear him on CD. Although his life & career was tragically shortened, George's voice is timeless. Any fan of Hawaiian music will tell you that George Helm was one of the greats. If you want the best male falsetto singing great Hawaiian music, look no further. I would give it more than 5 stars if I could...

The Honolulu 100: George Helm Jr. (1950-1977) is widely regarded as one of Hawai'i's best musicians, even though his debut album was released only after his death. Born on Moloka'i, Helm trained under famed musician Kahauanu Lake, and became a popular performer around Honolulu in the '70s. His greatest legacy, however, may be political, particularly his work with the Protect Kaho'olawe 'Ohana, a group opposing the United States military's use of the island as a bombing range. Hawaiian rights proponent Haunani-Kay Trask says Helm did much to galvanize the movement. "He was just a tremendous beacon for those of us in our late 20s and early 30s. He was so brave, and he was quintessentially Hawaiian in the way he did things. He wasn't a state senator, he was a singer. He was culturally one of our best." Helm disappeared off the coast of Kaho'olawe in March 1977, along with fellow activist Kimo Mitchell, during a protest. His goal has been realized, however: The Navy completed its handover of Kaho'olawe in April 2004, after a 10-year, $460 million cleanup.
Honolulu Magazine ~ Honolulu 100
Perhaps better known as a political activist than as a musician during his lifetime, George Helm became a recording star posthumously, with this simple, live album.

Originally from Moloka'i, Helm learned to play and sing falsetto at St. Louis High School in the late '60s, under the tutelage of Kahauanu Lake. After a short career at Hawaiian Airlines, he became a full-time musician, playing at regular gigs around Honolulu. Helm also immersed himself in the Hawaiian activism movement, becoming a leader of the Protect Kaho'olawe 'Ohana.

In 1976, between trips to Kaho'olawe to protest the bombing, Helm was playing evenings at the Gold Coin Restaurant in Honolulu. Richard Wong, the restaurant owner, taped some of the performances, but didn't do anything with the recordings until Helm was lost at sea on one of his Kaho'olawe journeys in March 1977.

When Helm died, Wong quickly pulled Helm's electric bass player, Steve Mai'i, into the studio to fill in the bass lines underneath Helm's trebly guitar work, released the album that May and sold 25,000 copies almost overnight.

Unfortunately, no contract between Helm and Wong had ever been signed, and Helm's family saw no royalties from the album's sales. Harry B. Soria says, "It was like a bootleg. It was an afterthought, but it was brilliant, and Hawai'i was just struck with the guy. But not a penny went to the family."

Producer Michael Cord, who later reissued the album on compact disc, helped to rectify the situation by buying the copyright from Wong and agreeing to pay the Helm family royalties on all subsequent sales.

Helm's powerful voice and message continue to resonate today. The object of Helm's political crusade has been realized as well-the Navy finally completed its handover of Kaho'olawe this April after a 10-year, $460 million cleanup.
Honolulu Magazine ~ 50 Greatest Hawaii Albums of All Time

| | |
| --- | --- |
| | |
The Music of George Helm

George Helm was probably much better known as the founder and political activist who started the Protect Kaho'olawe 'Ohana than as a popular musician. That is probably because his only album was not released until after his death. Helm performed with Steve Mai'i at the Gold Coin Restaurant several nights a week for almost three hours a night.

In late 1976 Gold Coin owner Richard Wong decided to record some random performances of Helm and Mai'i. The recording was just an off-hand decision and Wong simply put the tapes into storage after recording them.

When Helm was suddenly lost at sea with Kimo Mitchell on March 7, 1977, Wong found he had a viable commodity. Wong quickly took Helm's recordings to a studio for editing. Wong also had to call in bassist Steve Mai'i to record accompaniment because when Wong made the recording he only had one microphone and focused it solely on Helm. Wong quickly released "The Music of George Helm: A true Hawaiian," on Gold Coin Records. In the wake of Helm's disappearance and apparent death the album gained much publicity and became a big hit.

To start off, I want to say I am not a fan of falsetto music, but I did enjoy Helm's album. The 24 tracks with the exception of two are in Hawaiian and are all written by other composers; Helm's interest in history is evident from the song choice which focuses on music of the past and not popular music of 1976. For instance, the composers include Queen Liliu'okalani and Lena Machado.

The album starts off with a song for Helm's hometown "Kalama'ula." Also included is the song "Hi'ilawe," which was made popular by Gabby Pahinui. Helm's version is slightly slower than Pahinui's. "'Alika," Genoa Keawe's signature song is also on the album and features some great guitar work by Helm.

The parts of the album I found most interesting are Helm's dialogues before the songs. At the start of about half the songs Helm gives little introductions, usually talking about history and the meanings behind the Hawaiian lyrics. For example, "Kalena Kai," talks about a small town on the 'ewa side of the island; this is my favorite song on the album and is a great showcase for Helm's soaring voice.

These mainly brief introductions give some insight into Helm as a person, and show his desire to share Hawaiian history and culture. These intros provide precious insight that may not be found in a history book, particularly when writing a paper for a Hawaiian studies class.

The whole album is also of invaluable historical importance and was thought lost for many years until 1996 when Michael and Meleana Cord of Cord International and Hana Ola Records released the album on CD as "Classic Collector Series Vol. 11."

The Cords remastered the sound for CD and added extensive liner notes by radio deejay Harry B. Soria Jr. which won a Na Hoku Hanohano (Hawaii's Grammys) for best liner notes in 1997. The sound quality on the CD is also great considering the relatively low technical quality of the original recording. Cord International also made sure that a part of the profits from the album would go to Helm's family. There was never an official agreement between Wong and the Helm family, which meant they received none of the proceeds.

The whole album is a winner, particularly if you enjoy falsetto music. If you do not enjoy falsetto singing this is probably not for you. Essentially a live album, but for the most part all the audience noises that are usually heard on a live album are absent. The songs fade in at the beginning and occasionally fade out before the song is actually over. This album is a wonderful document of a true Hawaiian, who left us much too soon, performing the music of his heart.

Ryan McKinley ~ Ka Leo O Hawai'i ~ University of Hawai'i at Manoa ~ May 22, 2007
...[Helm's] music transcends -- his soaring falsetto and Moloka'i Stroke acoustic guitar breathe vibrant life into these achingly sad, but beautiful Hawaiian lyrics of love (especially of the land) and loss. The recordings became rare and treasured icons of the movement and -- for those outside who were lucky enough to obtain copies -- some of the most achingly pure and emotionally intense music ever recorded in Hawaii.
Now, Cord International has remastered these audio tracks...the result is a stunning work -- a musical self portrait of a man who was so wedded to his culture that this performance is, also, an emotional revelation of Hawaiian-ness itself, from Queen Liliuokalani's Ku'u Pua I Paoakalani written while she was imprisoned by the Americans in her own 'Iolani Palace (Helm tells the audience the garden the song so lovingly describes and which the Queen could see from her prison window is now the parking lot of a Holiday Inn) to the playfully suggestive Keyhole Hula, and the nostalgic and anonymous Moloka'i Waltz.
A man who understood what he called the crying hurt and the unspoken dignity of Hawaiians, Helm sang these songs of Hawaiian soul with a blessing he often liked to give at his performances -- You are the favorite of the generation before... Now, 20 years later, George Helm has joined that generation. Yet his memory and his spirit burns bright on this essential disc - even with it's rough edges, or perhaps because of them, it could be the best single collection of Hawaiian music ever recorded.

George H. Lewis - Editor Popular Music and Society - August 1996 - University of the Pacific
1997 - Annual Na Hoku Hanohano Award Winner
Liner Notes of the Year

2009 - Annual Na Hoku Hanohano Award Winner
Special Lifetime Achievement Award (Posthumous)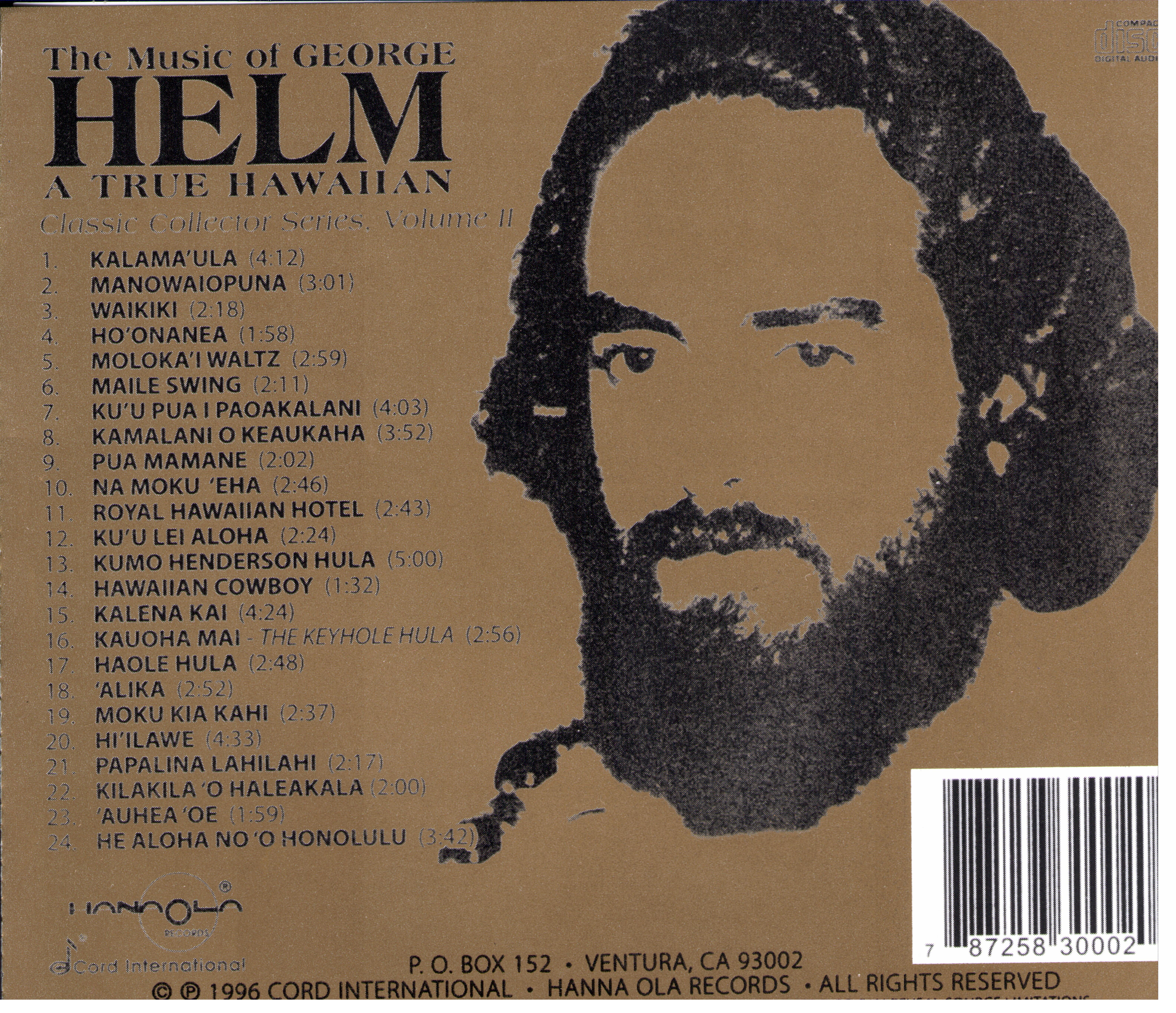 HOCD3000 - George Helm - A True Hawaiian