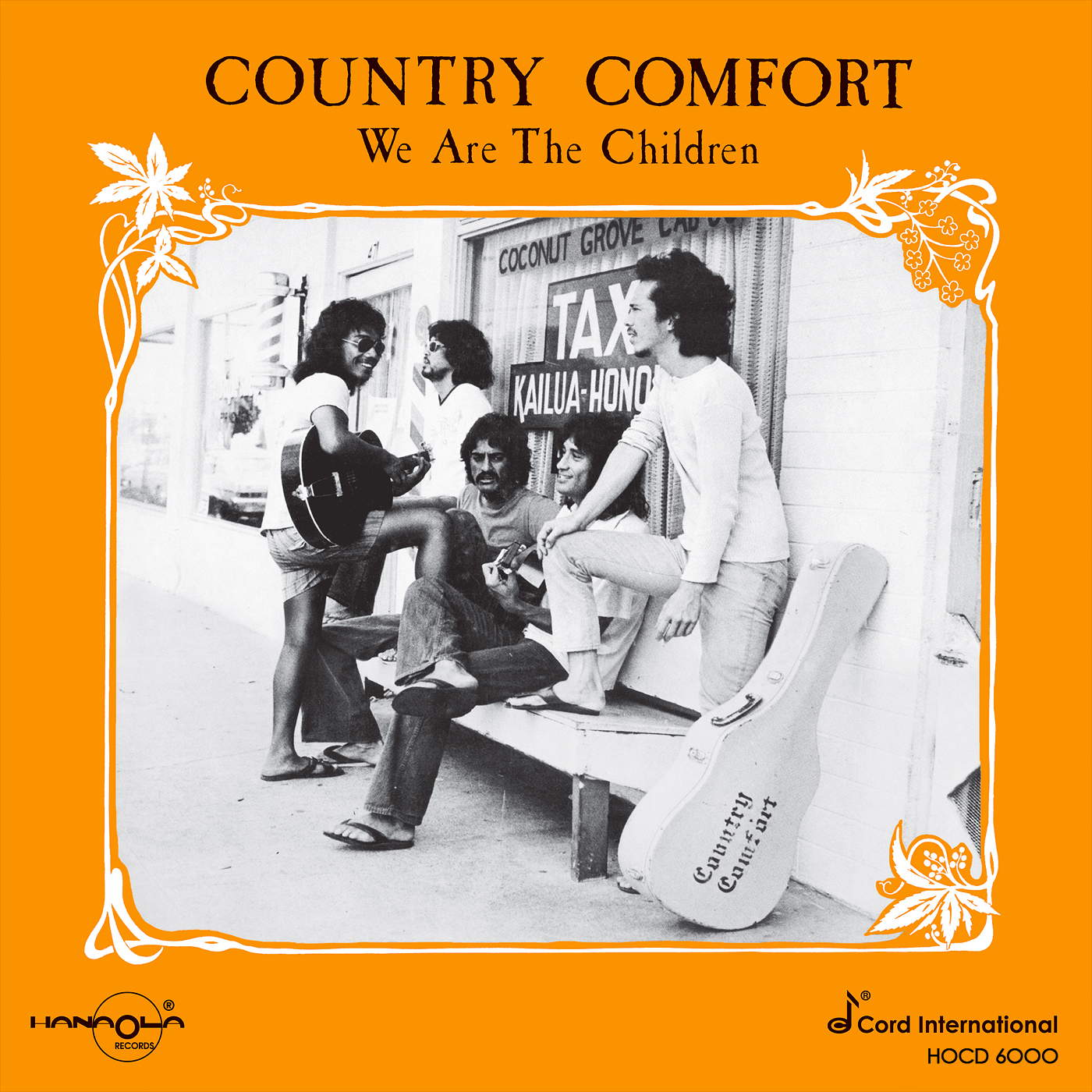 | | | |
| --- | --- | --- |
| | | |
| Download CD NOW | Listen on YouTube | Shipping to USA addresss ONLY |
One of the Greatest Hawaiian Albums of All-Time

An iconic album, We Are The Children was chosen by an esteemed panel of musicologists, producers, and artists as one of the greatest Hawaiian albums of all time and an essential cut when studying the history of Hawaiian music. Country Comfort helped change the direction of contemporary Hawaiian music and they are considered the fathers of that musical renaissance. This album was THE sound of the time. This was their debut album and contains two of their biggest hits, the original first-ever recorded Waimanalo Blues and Sun Lite, Moon Lite. Waimanalo Blues went on to become a political anthem of sorts as it laments the loss of ancient sacred Hawaiian lands. It has been recorded far too many times to count. Emma Stone even played it in Cameron Crowe's feature film Aloha. This version, the original, and Sun Lite, Moon Lite enjoy almost the same Hawaiian radio popularity today as they did in the 1970s. That is an amazing feat.
We Are the Children, Country Comfort, 1974 is considered one of the 50 greatest Hawaii albums of all time. Tom Moffatt jokes that Country Comfort got him out of the group management business. [Moffatt was their manager and he vowed to never manage a band again after his experience] These Waimanalo boys did have a reputation for partying hard, but they gained an even bigger reputation for their music with this rock-influenced debut. The album's high production values and radio-friendly songwriting paved the way for acts such as Kalapana, Olomana and The Beamer Brothers. The extracurricular excess caught up with the band eventually, but hits such as Waimanalo Blues continue to get airplay even today.
Honolulu Magazine ~ 50 Greatest Hawaii Albums of All Time
Five stars. I love this album. And so will you. Gorgeous vocal harmonies, great guitar work, country sounds, blues, rock and roll, beautiful and soulful ballads. All here in this album. Treat yourself to Country Comfort and discover the wonders of a 70s group who lost their lead singer far too soon. Highly recommended.

Country Comfort were a Contemporary Hawaiian Music band of the mid-1970s. Their music while linked to Hawaii was all sung in English language and is actually closer in style to the folk rock of Bread, James Taylor or Crosby, Stills, and Nash. They did mix in Hawaiian slack key guitar styling's into their arrangements and their songs often focused on issues facing Hawaii as well as universal love songs.
The group was a notoriously rowdy bunch and truly lived the rock and roll lifestyle. They were notorious for drinking heavily and using hard drugs like heroin and pills. Their live performances often ended in the band members passing out in the middle of songs and/or throwing equipment (like mike stands and guitars) at each other. Radio DJ and Concert promoter Tom Moffatt was their band manager and he vowed to never manage a band again after his experiences.
All of that aside they did make some great music including their 1974 debut "We Are the Children" which is considered by many to be one of the finest albums in Hawaiian Music. The music not only was catchy and well made but it also dealt with social problems facing Hawaii at the time like the big hit "Waimanalo Blues," which spoke of Hawaii's overdevelopment. The songs also connected with the era's disaffected college students and high schoolers who bought up the album in droves.
Country Comfort was one of the first popular bands to showcase a new generation of Hawaiian artists -- younger performers who were ready to move beyond hapa haole novelty songs as well as more traditional music, and embrace pop styles from the mainland. They wrote songs in English that dealt with contemporary topics, including the evocative "Waimanalo Blues," a beautiful acoustic-based song that lamented the commercial development of Hawaiian lands and the alienation that many native Hawaiians felt as they saw hotels and houses sprout up along local beaches. Musically, this '70s set was island music's answer to mainland bands such as America, Bread, and Seals
Five Stars. When I moved from Cali to Hawaii in 1977, I was blown away by how much good music was happening here and not being heard on the mainland. Country Comfort was one of the most popular and distinctive local groups of that time, creating a nice blend of Hawaiian themes and catchy pop sounds. Lead singer Billy Kaui (rest in peace) possessed a deep, soulful voice which set the group apart from most of the other bands of the time. Songs such as We Are the Children and especially Waimanalo Blues, one of the prettiest and saddest songs about losing one's cherished homeland ever recorded, remain iconic and powerful all these years later. Listen!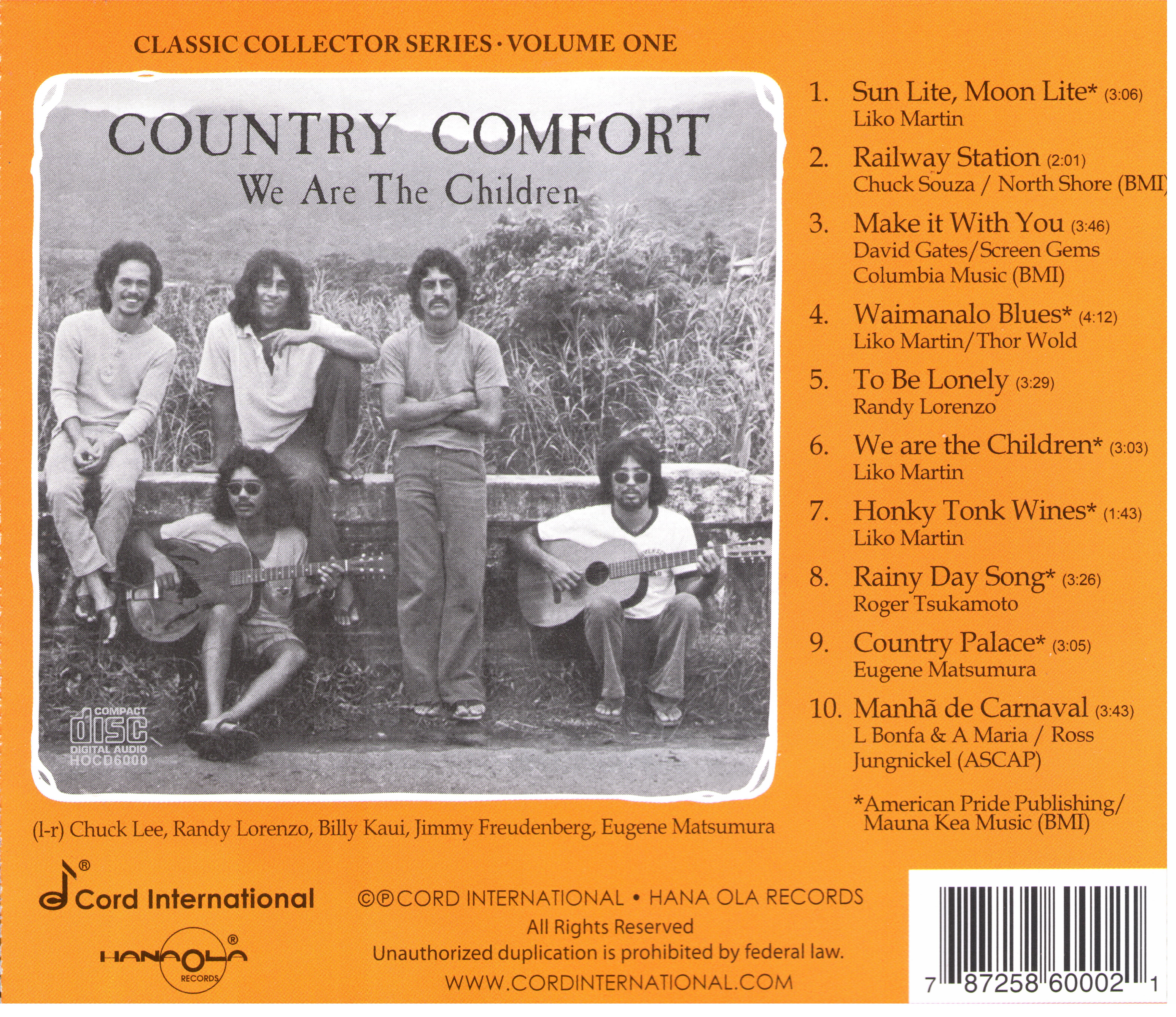 HOCD6000 - Country Comfort - We Are the Children