THE HISTORY OF
THE HAWAIIAN SLACK KEY GUITAR
The First 20 Commercial Recordings & Tuning Guidelines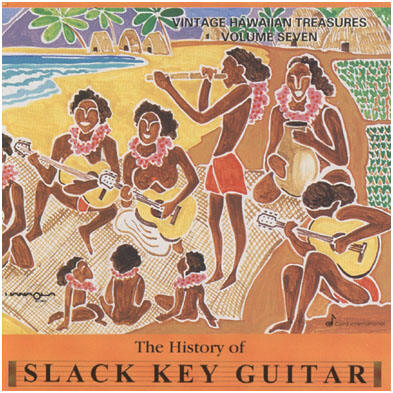 To Buy physical album - Click the "Add To Cart" button

U.S. Delivery





Produced by George Winston, this anthology brings together the first twenty commercial recordings of slack key guitar. They date from 1946 to 1950. Without early recordings such as these, slack key may have disappeared. Thank goodness today it continues to live & grow. Several of the songs on this disc have assumed the status of standards.

While most of the artists featured here made only these few recordings, others,particularly Gabby Pahinui &Tina Kaapana, went on to record prolifically. The sound of these wonderfully gifted & individualistic players survive with this anthology for everyone to enjoy & continue to inspire younger players & touch the hearts of all lovers of slack key.

The History of Slack Key Guitar is complete with extensive historical liner notes & tuning guidelines. And of course we have done extensive computer audio restoration.
A must-have CD for all slack key lovers!