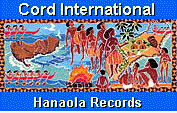 E KOMO MAI
Welcome to Cord International & Hana Ola Records
Han.a O.la (han-nah o-la), n. (in music) 1. The first name in vintage Hawaiian music. 2. Hawaiian music record company passionately dedicated to preserving, restoring, and releasing lost or previous out of print classic recordings. 3. A rich treasure trove of real Hawaiian music, extensive historical liner notes, and rare photos.
4. Hawaiian translation: "work of life" or "to grant or create life".


<+><+>
NOTE: Our store sells digital downloads
of our albums...for physical albums
VISIT ALOHA JOE'S STORE!
CLICK HERE





Fax: 805-648-3855
Cord International
PO Box 152 - Ventura, CA 93002
=
Cord International & Hana Ola Records
do NOT sell, give or trade customer names
and/or information with any other company.
MERCHANDISE RETURN POLICY
Should your downloaded music
be damaged, please contact us
by email so we can look into the matter.
EMAIL - info@cordinternational.com
Call 1-805-648-7881 for permission to return.
LISTEN TO THE WEBSITE FOR EXAMPLES OF OUR MUSIC
BEFORE YOU ORDER!
Cord International - Hana Ola Records